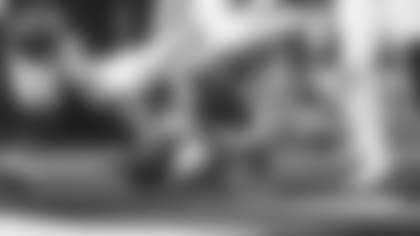 The winning-coin-toss deferral rule was instituted in 2008, and as the seasons have rolled by, most coaches decided that most times when they win the opening toss, they'll defer their kick/return decision until the second half. The reason, of course, is to create a touchdown sandwich — score a TD to close the first half, then get the second-half kickoff and score another TD.
As Jets first-year head coach Robert Saleh calls it, "a lap situation."
This opportunity doesn't seem to happen a lot — except maybe for the Patriots, who have popularized the defer call. But the situation arose for the Jets at Houston last Sunday and worked like a charm. We'll let Saleh describe the process.
"The offense scored right before the end of the half," Saleh told newyorkjets.com's Eric Allen this week. "The defense stood up with a stop at two-minute. And we almost got a chance with that [partially] blocked punt at the end of the first where we could've lapped them, you know, double-lapped them. But we got the ball to start the second half, the offense goes right down the field.
"So you look at that sequence. ... It was 14-3, we're struggling. ... And we get that nice long drive to end the half to cut it to 14-11. Then we get the ball to start the second half and boom! It's 18-14, just like that. And the entire game shifts all in two series. ... To be able to lap them in that situation fixed all the wrongs of the first half and propelled us to a really cool second half."
Like we said, this doesn't happen often. Here are the recent instances of what we'll call, just for the fun ot it, "halftime clubs on touchdown toast" for both the Jets and opponents, with the scores at key junctures. Keep in mind that to get on this sandwich list, a team only has to do five things: (a) win the opening toss and defer, (b) score in the last two minutes of the first half, (c) hold the opponents scoreless to 0:00, (d) choose to receive the second-half kickoff, and (e) immediately score another TD.
Table inside Article

| Season, Game | Opp | Pre-2-Min | Post-Sandwich | Final Score |
| --- | --- | --- | --- | --- |
| JETS | | | | |
| 2015 Gm 4 | @ MIA | Jets 13-7 | Jets 27-7 | Jets 27-14 |
| 2020 Gm 16 | @ NE | Patriots 7-0 | Jets 14-7 | Patriots 28-14 |
| 2021 Gm 11 | @ HOU | Texans 14-3 | Jets 18-14 | Jets 21-14 |
| OPPONENTS | | | | |
| 2016 Gm 12 | vs IND | Colts 17-3 | Colts 31-3 | Colts 41-10 |
| 2017 Gm 6 | vs NE | Jets 14-7 | Patriots 21-14 | Patriots 24-17 |
| 2020 Gm 12 | vs LV | Jets 13-10 | Raiders 24-13 | Raiders 31-28 |
| 2020 Gm 13 | @ SEA | Seahawks 17-3 | Seahawks 30-3 | Seahawks 40-3 |
| 2021 Gm 9 | vs BUF | Bills 10-3 | Bills 24-3 | Bills 45-17 |
Some Jets Sack Trivia
If we measure long plays forward from the line of scrimmage, why not long plays backward? One reason to do that is to ask when was the last time the Jets executed a longer loss of yardage on a sack than Quinnen Williams' 19-yard takedown of Tyrod Taylor on Sunday.
The short answer is that Shaun Ellis was credited with a 23-yard stripsack of Kurt Warner back in that 56-35 barnburner win over the Cardinals in 2008. But Elias Sports Bureau and the NFL add fumble yardage to sack yardage up to the point of a first touching of the loose ball. Ellis' bagging of Warner was for 12 yards plus 11 more yards before the Cards recovered the fumble.
When was the last time the Jets notched a longer sack that didn't involve a fumble? That occurred in 1990, in the Game 16 season finale at Tampa Bay. The sacker that day was Dennis Byrd. The sackee was Vinny Testaverde. The fourth-quarter play-by-play reads:
1-10-NY40 V.Testaverde sacked at TB37 for -23 (D.Byrd). Rolled right, retreated.
Retreated to 2nd-and-33, and ultimately to a punt in a close game pulled out by the Jets, 16-13.
Quinnen's sack of Tyrod, on Houston's last offensive play of the third quarter, seemed to have an equally chilling effect on the Texans. In the fourth quarter, Taylor was 4-of-8 passing for 20 yards and the Texans managed 26 total yards and no points as the Jets prevailed, 21-14.
O'Brien to Shuler Revisited
Ken O'Brien and Mickey Shuler are back in the area for Sunday's Jets-Philadelphia game and the return is about more than just the fact that both players started their NFL careers as Jets and finished them as Eagles. O'Brien-to-Shuler was the most potent QB-to-TE passing connection in Green & White history.
The numbers will fly again during the game, but these stand out: From O'Brien's first completion to Shuler in 1984 to his last in 1989, including playoffs but excluding all games in which either didn't play due to injury or to the three replacement games in 1987, the dynamic duo put together a 71-game streak in which Shuler caught at least one O'Brien pass. Their totals during that streak: 298 completions, 3,227 yards and 15 TDs. Bravo one more time, Kenny and Mickey.