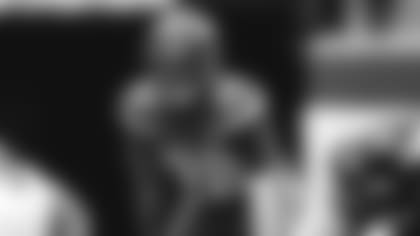 Rookie RB La'Mical Perine, after enjoying against the Bills his most impactful game as a Jet, said he felt his confidence growing back to his University of Florida levels.
"Most definitely, I feel a lot more confident," Perine said. "Being seven games in, I'm starting to feel like my old self. So I'm feeling good and just looking forward to the future. I've just got to keep getting better."
Getting better in one area will be hard. As we mentioned last Sunday, Perine's seven first downs, all in the first half, were the most in a half by any Jets rookie since 1990.
After more research, we can extend that statement a lot further. Perine's seven first downs were the most by any rookie in any half in franchise history.
Only three other rookies previously notched six first downs, all in first halves. It began with Titan Dewey Bohling pounding a sixpack for the Titans against the Oilers in 1960. Ring of Honor Jets RB Matt Snell broke in with his huge rookie season in 1964 that included a six-first-down first half vs. Oakland. And Clark Gaines did the six trick twice in 1976, at Buffalo and against Tampa Bay.
Perine shows signs of being able to get better and better. His rushing yardage vs. Buffalo (40 yards on 11 carries) wasn't as impressive as it could've been with three minus runs. But he also had his career-long 20-yard burst plus first-down carries of 4, 8, 5 — for his pylon-kissing touchdown — 2 and 2 yards and another first down on a 9-yard reception.
As QB Sam Darnold said about what we saw vs. the Bills and what we might see looking forward: "LP did a great job just being consistent for us running downhill. And we're going to continue to look for him to make plays but also to stay consistent in the run game."
Green & White's Red Wall
Avery Williamson captured the Jets defense's task against Buffalo: "We were just trying to bend but don't break. They've got some good players over there, too."
The defense succeeded in not breaking, and with just one more touchdown on offense, the package perhaps would have combined for a Jets win instead of the 18-10 loss. Not only did the Jets allow six field goals in all, they allowed only two of them on six red zone opportunities by the Bills. It was one of only four games in the NFL's red zone era (since 1974, when goalposts were moved to the end line) that the Jets defense had five or more chances to stop the opponents inside their 20 and didn't give up a touchdown. Here is that four-game list:
Table inside Article

| Year, Game | Opp | RZOpps | RZTDs | RZFGs | RZPts | Score |
| --- | --- | --- | --- | --- | --- | --- |
| 2020 Gm 7 | vs BUF | 5 | 0 | 2 | 6 | L, 18-10 |
| 1987 Gm 7 | vs IND | 5 | 0 | 3 | 9 | L, 19-14 |
| 1993 Gm 6 | vs BUF | 6 | 0 | 4 | 12 | L, 19-10 |
| 2019 Gm 13 | vs MIA | 6 | 0 | 5 | 15 | W, 22-21 |
Huff Strikes Again
Last week we waxed poetic about the longest sacks on record both for and against the Green & White. DL Bryce Huff contributed a different kind of loss against the Bills when he shot across the line, read the toss from Josh Allen to Isaiah McKenzie perfectly, flew to the WR and took him down for an 11-yard loss.
That's the most yardage lost by an opponent on a rush or reception since the 2014 opener, when Quinton Coples dropped Oakland RB Maurice Jones-Drew for an 11-yard loss, with most of that real estate the result of Jones-Drew's fumble.
The last time the Jets hung a longer minus on opponents with no fumble involved: 1996, Game 8, when DE Marvin Washington tackled Buffalo WR Andre Reed for a 13-yard loss on a reverse.