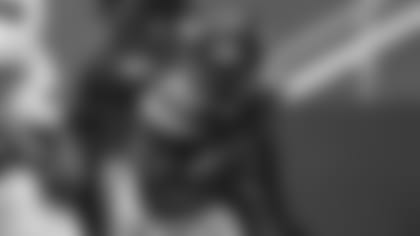 Because of his balky hamstring and groin, WR Jamison Crowder has taken the field for only four of the Jets' eight games this season. To be sure, he's provided a half-season's worth of production in that quarter of a season's games: 29 receptions for 383 yards and two touchdowns, which extrapolates to a 16-game season's worth of 116 catches for 1,532 yards and eight TDs. The catches and yards would break Brandon Marshall's franchise records of 109 and 1,502 set in 2015.
Perhaps his muscle pulls (or was it the extra attention Miami paid in covering him?) resulted in his gaining only 48 yards on seven catches in Week 6, thus ending his franchise-record-book bid for most consecutive 100-yard receiving games. He reached 100-plus yards at Buffalo and then vs. Denver and Arizona for three in a row.
Despite the injuries, Elias Sports Bureau among others over the years has determined that players who miss games don't end streaks (except for starting/participation streaks). Which explains why Crowder, despite his relatively low profile this season, can still extend several other interesting skeins when he returns to action, perhaps on Monday Night Football after sitting out the past two games:
■ With just one thin reception against the Patriots, he would extend his career-long receiving streak to 77 straight games (78 if we include Washington's playoff game at Green Bay in 2015). Yes, that's right, Crowder has caught a pass in every regular- and postseason game he's played in as a pro.
■ With two catches vs. the Pats, he would make it 21 consecutive games with two or more catches. He's had at least two grabs in every one of his games as a Jet.
Crowder's not ready to climb onto this Jets record list yet but we thought this was a good spot to recall the top pass-catching streaks in Jets/Titans history:
Table inside Article

| Jets Receiver | Seasons | Streak | Streak(+PO) |
| --- | --- | --- | --- |
| WR Don Maynard | 1960-70 | 117 | 115 |
| WR Al Toon | 1985-92 | 101 | 105 |
| TE Mickey Shuler | 1983-89 | 86 | 89 |
| WR Jerricho Cotchery | 2005-10 | 80 | 84 |
| FB Richie Anderson | 1999-2002 | 64 | 67 |
■ He has caught at least seven passes in five consecutive games dating to last year's season finale at Buffalo. That's the franchise record and the longest current streak in the NFL. One more seven-catch outing vs. New England would move Crowder into an elite field of 17 different players who've gone 7-plus catches for 6-plus consecutive games.
■ Finally, Crowder has been targeted on at least 10 passes in five consecutive games he's played dating to last year's finale at the Bills. He's tied with Brandon Marshall's five straight games of 10-plus targets in 2015, both the most by a Jets receiver since we began compiling Jets targets rigorously in 1997.
Mann Oh Mann
Rookie P Braden Mann showed improvements in key metrics from the first quarter of the season to the second, capped by his five-punt game at Kansas City. His first Arrowhead punt unofficially had a 5.08-second hangtime (not the 5.4 reported by CBS at the time but still up there), while his second punt skied for 5.05 seconds. Both were fair-caught.
That makes it five 5.0 hangtime kicks this year for Mann, already the most in a season by a Jet since Ryan Quigley's 10 in 2014. Steve Weatherford's 18 punts of 5.0-plus hangs in 2010 remain the gold standard by a Green & White punter over the last two decades.
Then punt No. 3 was a lower-hanging drive that forced Mecole Hardman to catch it going out of bounds for a zero-yard return. The 60-yard gross and net are both Mann's best as a pro so far.