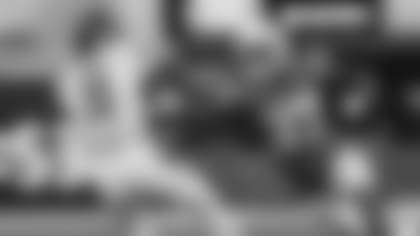 It's still early in Denzel Mims' Jets career — he's played only four pro games, after all. Yet people are noticing what the second-round rookie WR from Baylor can bring to the table.
People as in NFL head coaches. Jets HC Adam Gase, for example, hates to play the "what-if game" but said he would have loved to see what a full offseason and training camp and full health would have done for No. 11.
"I feel like he's getting better fast," Gase said. "He's very coachable, he's not afraid to ask questions, he tries to do things the way you want. He makes mistakes but he learns from them. I think he's only going to get better. He does have kind of a swagger about him, a confidence about him."
And Brian Flores, Miami's head coach who will have to prevent Mims from going off on Sunday at MetLife, was asked what he saw in Mims and cut to the chase.
"I see speed. I see talent. I see hands. I see play-making ability," Flores said. "I see a good player. Yeah, I see a good player."
Mims has yet to erupt. He's had no touchdowns, no more than four catches in any game (vs. the Bills and Patriots), no more than 71 yards (at the Chargers). Yet one ominous, promising measure is his four 20-yards-plus receptions, all in the past three games.
The last Jets rookie to have that many chunk plays in a three-game span was Robby Anderson in 2016, and before that Laveranues Coles in 2000.
As for entire rookie seasons, Mims is running out of games, with six left in 2020, to join the six first-year Jets, all wideouts, with 10-plus 20-yarders in franchise history. The list is topped by the incomparable Wesley Walker, like Mims a second-round draft pick who not only averaged more than one chunk play a game in 1977 but had five 20-yarders in the first three games of his career and eight in Games 4-6 (at Buffalo, at Miami and vs. Oakland):
Table inside Article

| Jets Rookie | Season | 20+Recs | Most 20+Recs in 3 Gms |
| --- | --- | --- | --- |
| Wesley Walker | 1977 | 16 | 8 (Gms 4-6) |
| Derrick Gaffney | 1978 | 12 | 4 (three times) |
| Rob Moore | 1990 | 12 | 5 (two times) |
| Lam Jones | 1980 | 11 | 5 (two times) |
| Keyshawn Johnson | 1996 | 10 | 4 (two times) |
| Robby Anderson | 2016 | 10 | 5 (Gms 12-14) |
Of Touchless Sacks & Intentional Safeties
Two Jets defenders notched personal firsts at Los Angeles with just about the minimum of contact you can have on a football field.
CB Arthur Maulet wasn't blitzing in the second quarter but when Chargers QB Justin Herbert scrambled, Maulet came across the line. Then Herbert slid to give himself up for a 3-yard sack. Who got the takedown? Maulet was closest so he scored the first sack of his pro career even though he didn't make any contact. Nathan Shepherd did make contact right after for another Jets roughing/roughness penalty, and usually a personal foul wipes out a play statistically. But since the officials had blown the play dead on Herbert's slide, the sack stands.
Then on the next-to-last play of the game, punter Ty Long took the fourth-down "punt" snap backward 28 yards to his goal line and on into his end zone to run the clock down as much as possible. Frankie Luvu pursued and got there just in time to shove Long over the end line, stopping the clock with 0:01 to play and earning himself, regardless of L.A.'s intentions, his first NFL safety and points.
Additionally, the play was scored a rush for Long, since he did run all the way into his end zone. It's not the kind of play the TFL statistic was created for but technically it was a tackle for loss by Luvu and thus the longest recorded minus scrimmage play by a Jets defender in franchise history.
There is only one other known intentional safety scored by the Jets in their history. It came at Denver in 1964 when, with 1:05 to play, rookie LB Ralph Baker tackled QB Mickey Slaughter, who had run into his end zone to give up the two-pointer that helped secure the Broncos' 20-16 win.
The Jets have executed several intentional safeties, most recently in 1997 by Neil O'Donnell in the Jets' 16-12 win over the Colts in the former stadium known as the RCA Dome. Because O'Donnell fired the ball "into the first row," as instructed by then-first-year Jets coach Bill Parcells, the play was scored as a rush, a backward pass, a fumble out of bounds and a 34-yard rushing loss — the longest minus scrimmage play by any team in franchise history.