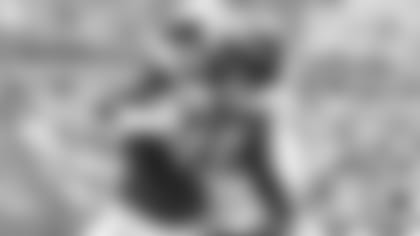 If the Jets' running backs room, now stacked to the ceiling tiles with tailback talent, needs some guidance in sorting out playing time and touches, the tight ends room will be glad to help.
By now all Jets fans know what the Green & White TEs did as a group in the 27-0 victory at Carolina. All six tights on the roster got at least 10 offensive snaps in the game, all caught at least one pass, and as a whole the position totaled nine receptions for 77 yards and three touchdowns.
■ The three touchdowns, all red-zone and goal-to-go scores, one each by Kenny Yeboah and rookies E.J. Jenkins and Zack Kuntz, were tied for the most in any preseason game in franchise history. In fact, it happened only once before, and that was two summers ago, when Yeboah with two scores and Lawrence Cager, who had shifted from WR to TE that offseason, totaled three TDs in the preseason finale vs. Philadelphia.
■ Only once before in ANY game in franchise history did Jets tight ends have more TD catches in a game. That was in the classic 1993 Game 4 matchup, at the old Meadowlands Stadium against the Eagles, when Boomer Esiason connected with Johnny Mitchell for three scores and James Thornton for a fourth. Unfortunately, as Jets fans of a certain age painfully recall, that "tight" offense was undone when Eagles CB Eric Allen (no relation to newyorkjets.com's EA), unleashed a late, electrifying 94-yard interception-return TD to hang a 35-30 fall-from-ahead loss on the Jets.
■ The Panthers game was the first time that three different TEs each had a TD catch in any of the previous 1,163 preseason/regular-season/postseason games in Jets/Titans franchise history.
These are the five times in team annals in which the tight end position totaled at least three touchdown receptions in a game:
Table inside Article

| Game | Opp | TE TDs | Indiv TEs, TDs | Final |
| --- | --- | --- | --- | --- |
| 1972 Gm 2 | @ BAL | 3 | Richard Caster 3 | Jets 44-34 |
| 1985 Gm 11 | vs TB | 3 | Mickey Shuler 3 | Jets 62-28 |
| 1993 Gm 4 | vs PHI | 4 | Johnny Mitchell 3, Jim Thornton 1 | PHI 35-30 |
| 2021 PS Gm 3 | vs PHI | 3 | Kenny Yeboah 2, Lawrence Cager 1 | Tie 31-31 |
| 2023 PS Gm 2 | @ CAR | 3 | Yeboah 1, E.J. Jenkins 1, Zack Kuntz 1 | Jets 27-0 |
These fantastic facts alone don't say a lot about how the tight ends will factor into the Jets offense in the coming season. After all, Aaron Rodgers has yet to step on the field to take a game snap with them. Meanwhile, Yeboah, Jenkins and Kuntz are probably fourth, fifth and sixth on the depth chart behind Tyler Conklin, C.J. Uzomah and Jeremy Ruckert, and no way can the Jets keep six TEs on their active roster.
But offensive coordinator Nathaniel Hackett has enjoyed pounding this sixpack all summer.
"The tight ends are doing a really good job," Hackett said this week. "I've been part of teams that sometimes people have been specialized and maybe they're better at this or better at that. The cool thing about these guys is that they all do everything really well. You have guys that can go down the field, they can catch, they can run routes, they can pass-block, they can-run block. So when you have that, you're able to do a little bit more with them. And the fact that we have a bunch of them is really cool, too."
Conklin, who caught the position's first pass of the sweaty Carolina afternoon  from Zach Wilson on the Jets' third scrimmage play, sees how the TEs can fit into the offense's emerging big picture.
"I think the big thing was the way we ran the ball," Conklin said after fielding several early questions on the Jets adding RB Dalvin Cook, his former Vikings teammate. "To run the ball whatever it was, 30 times for 150 yards [actually 37 for 141], obviously opened up a lot of the play-action stuff for the tight ends scoring three touchdowns, so I'm happy about that. And two young guys getting their first ones is really cool to see.
"And that's the big thing. We want to come out there, every unit, and build chemistry and really run the ball. That's what you have to do to be successful in this league. ... The fact that we have all these things built into this offense — tight end screens and nakeds and keepers — is really going to help us as tight ends."