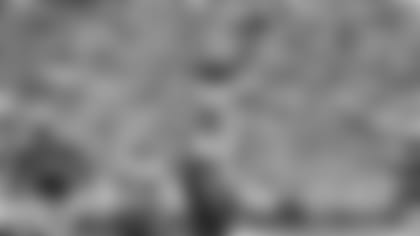 Might the tight be right in the Jets offense again?
Zach Wilson's third completion last Saturday at Green Bay was to Trevon Wesco for 17 yards on first-and-10. But Wilson's last two connections of the night were his two touchdown strikes to Tyler Kroft, both 18-yarders, to put the Jets ahead to stay late in the first half.
Who knew about Kroft? Well, a lot of people who watch tight ends did, such as Anthony Becht, the former Jets first-round TE who now works the team's preseason games on WCBS alongside Ian Eagle.
"Tyler coming out of Rutgers was a special talent," Becht told me. "I worked with him every day for two months at IMG Academy in Bradenton prior to the 2015 draft. His route-running talent was ahead of most tight ends entering the NFL at that time. Smooth when transitioning out of his routes, had excellent body control coming out of breaks, and was very fluid when he turned up the field after making a catch.
"He clearly still has the talent to be a very effective pass-catching tight end."
Here's how effective: Since 2017 Kroft has had 11 touchdowns on 64 regular-season receptions. That's 5.82 catches/TD, the third-best rate among TEs in the league in the past four seasons.
And his two TDs at the Packers also were a sign of good things ahead for the Jets at the position, since Kroft and Ryan Griffin, in the 2019 RS at Jacksonville, are the only Green & White tights with two TD catches in any game in the last 10 seasons.
Up through Dustin Keller in 2011, the Jets had a compact but dangerous parade of tight ends who scored regularly. Not surprising for "hands" guys like Jerome Barkum and Richard Caster, who both started out as Jets WRs before moving to TE. Others were tight ends their entire time in green and white, such as Mickey Shuler and Keller. Johnny Mitchell is the only Jets TE with three TD catches in a game. Easy Jets trivia question: Do you remember which game?
Here's the list of the most games with two-plus scoring receptions by tight ends in all games in franchise history (games for Caster and Barkum only when they were listed as TEs, span is years of first and last games with two TD catches):
Table inside Article

| Jets TE | Span | PS | RS | Total |
| --- | --- | --- | --- | --- |
| Jerome Barkum | 1978-81 | 1 | 3 | 4 |
| Mickey Shuler | 1984-88 | 0 | 4 | 4 |
| Richard Caster | 1973-75 | 1 | 2 | 3 |
| Johnny Mitchell | 1993-94 | 0 | 3 | 3 |
| Dustin Keller | 2010-11 | 0 | 3 | 3 |
| Anthony Becht | 2001-03 | 0 | 2 | 2 |
It would be neat as well as offensively productive if Kroft, and/or Chris Herndon, Griffin and Wesco, could climb onto this list in the seasons ahead. Becht isn't ruling out his former student, who called him "Coach" when the two hooked up for an impromptu chat after the Jets' 23-14 win over the Pack.
"Tyler's size and length provide instant mismatches, especially in the red zone," said Becht, who had a pair of two-TD RS games himself, vs. the Rams in '01 and the Bills in '03. "It showed up against Green Bay, and quarterbacks naturally lean on guys they can count on. They both took nice strides toward that."
Trivia answer: Mitchell's trifecta came in Game 4 in 1993, when he caught three scoring strikes from Boomer Esiason. The opponent in the Meadowlands that day — fitting since the same opponent will be visiting the Jets at MetLife tonight — was the Philadelphia Eagles, who came back from a 28-14 deficit that day for the 35-30 win.