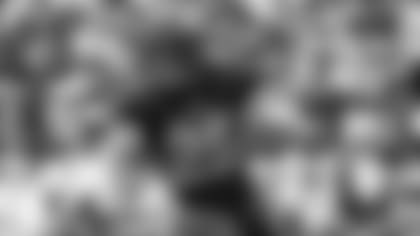 One of the secrets going forward in the second half of this season (actually the last 9/17ths of this season) for the Jets' offense, no matter who's at QB, will be getting the ball to all their receivers and not just the wideouts down the field.
Sounds simplistic, but recently the Jets have focused on delivering the pigskin to their running backs, and the results have been greased lightning.
Rookie Michael Carter has turned on his receiving dimension the last three games, racking up 18 catches for 199 yards (11.1 yards/catch) against the Patriots, Bengals and Colts. (He benefited from a no-catch, 23-yard "reception" on a lateral from Jamison Crowder in Indy, but hey, someone has to get those yards.)
Third-down back Ty Johnson, over those same three games, has 13 catches for 176 yards (13.5 yards/catch) and a pair of touchdown catches displaying his deft footwork, the 19-yard sideline strut vs. Cincinnati and some 22-yard pinball wizardry late in Indy.
And don't forget Tevin Coleman. He missed those three games with a hamstring injury but could return for the Bills on Sunday. He has only two catches for 17 yards this year but came to the Jets packing a 10.4 yards/catch average on his 119 career receptions, the best by any back with 100-plus receptions since 2000 and one of only four RBs with a 10.0 average in that span. And now the Jets have Coleman plus two more backs who are toying with 10-yard averages for the season.
Inside those numbers are yards-after-catch numbers, which are also strong for the 2021 Jets. The current backs are averaging 10.7 yards after catch, every catch. Their 512 total YAC is the best total for any eight consecutive games since 1997. Here are the top five eight-game running back YAC figures for the Jets in the past 25 seasons (minus some eight-game stretches with fewer yards that overlap these stretches):
Table inside Article

| Year, Games | RB Recs | YAC | YAC Avg | Top Jets YAC RBs |
| --- | --- | --- | --- | --- |
| 2021 Gms 1-8 | 48 | 512 | 10.7 | Michael Carter, Ty Johnson |
| 1997 Gms 1-8 | 52 | 449 | 8.6 | Richie Anderson, Leon Johnson |
| 2002 Gms 8-15 | 66 | 423 | 6.4 | Curtis Martin, Richie Anderson |
| 2006 Gms 7-14 | 48 | 418 | 8.7 | Leon Washington |
| 2017 Gms 1-8 | 41 | 385 | 9.4 | Matt Forté, Bilal Powell |
The real importance of the Jets backs' YAC isn't their own numbers — backs will wheel-route linebackers to the end zone on occasion but teams need more than backs with hands to succeed in the NFL — but how they can augment the overall passing game and offense that Saleh and OC Mike LaFleur are trying to build. Saleh explained that this week in the context of getting WR Corey Davis back from his hip injury in time for the Bills.
"I'm really excited for Corey to get back in because I do feel like the offense is starting to hum a little bit in terms of just the route running, the protection, run game needs to improve some. But at the same time, when you turn on the All-22 and you watch our receivers running their routes, they are getting very precise, they're sitting in zones, they're getting vertical with balls in their hands, they're making people miss, the backs are getting involved.
"And so over these last two games, it's been pretty cool to see the offense move and that'll be really good to get him back into the mix to this speed at which we're operating to see if we can get even better as the year progresses."