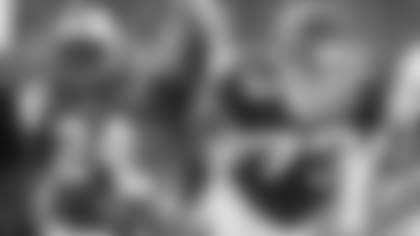 It's an intoxicating time in Jets history, not only with Aaron Rodgers and Hard Knocks but with Darrelle Revis and Joe Klecko being enshrined in the Pro Football Hall of Fame on Saturday, two days after the Jets play in their third Hall of Fame Game in Canton. Revis will become the sixth player with Green & White connections to be a first-ballot enshrinee and the first first-ballot Hall of Famer who played most of his career with the Jets.
Klecko is on the other end of the timescale, being inducted as a Seniors candidate 29 years after he was first eligible to be inducted. The only Jet with a longer wait to enter the Hall's doors was tackle Winston Hill, enshrined posthumously in 2020, 37 years after he became HOF-eligible.
Here are a few more numbers to celebrate from the careers of No. 73 and No. 24 ahead of their Canton cermony:
■ Still one of the greatest CB seasons in NFL history was Revis' 2009. That was when his blanket coverage held eight of the game's top wideouts in 10 games to 35 receiving yards or less. Equally important, Revis posted 31 passes defensed in the regular season, one more than Rod Woodson's 30 PDs for Pittsburgh in 1993 and still a league standard since PD collection became standardized in 1991 (source: statspass.com).
■ And who holds the PDs mark for a season including playoff games? That would also be Revis, who had 34 total breaksup in '09, one more than Doug Evans' 33 for Green Bay in 1995.
■ One of Revis' career gems came in that sparkling '09 season, in the December road meeting against the Bills in Toronto. On that Thursday night, Revis recorded five PDs, the first of two such games in his career. (The other was vs. the Giants in 2011.) Four of his five PDs vs. Buffalo came in coverage against Terrell Owens, who was held to three catches for 31 yards. And TO's last target was Darrelle's INT of the Ryan Fitzpatrick longball at the Jets 39 to secure the 19-13 win.
■ When Revis returned for his Green & White encore in 2015 after two seasons away, the theme was the ball always finding 24's hands. Revis had five interceptions that season and also pounced on four opponent fumbles. The only time since 2001 that an NFL player had at least 4 INTs and 4 FUM recoveries in a season was Sammy Knight (6 INTs/5 FUMs) for the '01 Saints. Others in this category include Jets S Victor Green (6/4 in 2000).
■ How many sacks did Klecko have in his career? There are at least two correct answers. As football fans know too well, Klecko's career sack numbers are truncated due to the NFL and the Elias Sports Bureau making individual defensive sacks an official statistic only beginning in 1982. By that measure, Klecko has 24 career QB takedowns.
■ But the Jets kept coaches' video breakdown numbers before that, so a truer, albeit unofficial, accounting of Joe's career give him 77.5 sacks, including his career-best 20.5 sacks in 1981.
■ 1981 was a bountiful harvest for Klecko, Mark Gastineau, Marty Lyons and Abdul Salaam — the New York Sack Exchange — as well as for the entire defense, which set the franchise season mark with 66 sacks. Klecko, again unofficially, led the way with 20.5 (Gaastineau had 20). And for what it's worth, add one postseason sack and five preseason sacks to Klecko's '81 total for a 26.5-sack season, which is possibly the second-largest single-season total-games haul behind only Al Baker's 29 sacks for Detroit in 1978 (six in the summer, 23 in the regular season).
■ Klecko enjoyed no 4.0-sack games but he had a game in which he was involved in four sacks and almost five that perhaps was just a little sweeter than his 3.0-sack games. That was the Jets' 1981 October home game against New England, when he was credited with 3.5 sacks of Matt Cavanaugh in the Jets' 28-24 victory. Klecko and Lyons, his presenter at Saturday's ceremony, each had a half-sack of Steve Grogan on the Pats' final drive, but it was wiped by a defensive holding penalty.