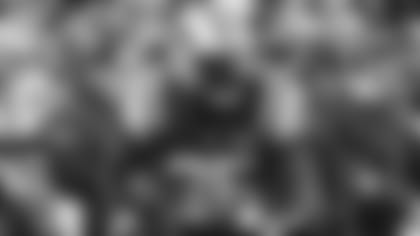 Jets coaches have compared Elijah McGuire's potential to that of some pretty impressive NFL runners. Recently, coordinator Jeremy Bates regained McGuire's services after he missed the first eight games with a broken foot and said:
"For a young kid, Eli's a true pro. He reminds me of Kevin Faulk as far as just understanding the game. He's a special player and he loves the game. He played basketball in college, so he knows how to get open, knows how to move defenders. We're just really excited about having him."
Interesting that Bates would bring up Faulk with New England just ahead. But we don't have to go that far afield for comparisons to versatile RBs: After two games of action this season. McGuire's fast start is reminiscent of some of the top backs in Green & White history.
It's admittedly not a large sample size, but McGuire has run for 60 yards on 13 carries and has added 64 yards on six receptions. The 124 yards on 19 offensive touches averages out to 6.7 yards/touch. If McGuire can average about 10 touches per game down the stretch and maintain that average, he'd have the fourth-best yards/touch average among running backs in franchise annals.
These are the top five single-season yards/offensive touch figures by Jets backs, with a minimum of five touches/game (80 for a 16-game season):
| Jets RB | Season | Touches | Yards | Yards/Touch |
| --- | --- | --- | --- | --- |
| Bruce Harper | 1980 | 95 | 760 | 8.0 |
| Richie Anderson | 2000 | 115 | 916 | 8.0 |
| Bruce Harper | 1983 | 99 | 767 | 7.7 |
| Leon Washington | 2008 | 123 | 803 | 6.5 |
| Bill Mathis | 1967 | 103 | 672 | 6.5 |
Further, McGuire this year has picked up nine first downs already, giving him an average of 2.1 touches/first down. The last time a Jets back produced first downs at a greater clip, FB Jerald Sowell had 1.8 touches/first down (48 touches, 27 first downs) in 2003.
And against the Bills, McGuire achieved a rare bit of trivia. In the second quarter he converted a fourth-and-1 with a 13-yard run, then on the next drive converted a fourth-and-7 with a 12-yard catch that got Jason Myers in range for his 55-yard field goal to end the first half.
Thus McGuire became the first Jet to convert at least one fourth down rushing and one fourth down receiving in the same game since Curtis Martin turned the trick at Indianapolis in 1999.
One could see the McGuire package being a feature of the Jets offense against Faulk's former team at MetLife Stadium on Sunday.