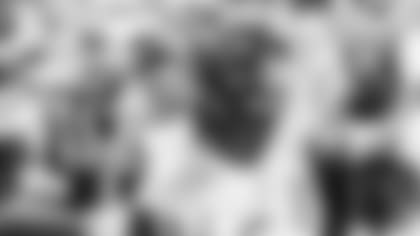 Despite the final score, several offensive players had some noteworthy performances in the Jets' opening-day 17-16 loss to the Bills.
Jamison Crowder, for instance, was so prolific in his first game as a Jets WR that he claimed a share of Green & White history.
Crowder's 14 receptions (on 17 targets for 99 yards) tied for the most ever in a game by a Jets wideout. The only other WR to get to 14 was Al Toon, vs. Miami in 1988. The only player with more catches in a game was FB Clark Gaines, vs. San Francisco in 1980.
Here are the top four games for most receptions by a Jets player:
Table inside Article

| Jets Player | Pos | Date | Opp | Rec-Yds-TDs | Final |
| --- | --- | --- | --- | --- | --- |
| Clark Gaines | FB | 9.21.80 | vs SF | 17-160-0 | 49ers 37-27 |
| Al Toon | WR | 11.27.88 | vs MIA | 14-181-0 | Jets 38-34 |
| Jamison Crowder | WR | 9.08.19 | vs BUF | 14-99-0 | Bills 17-16 |
| Al Toon | WR | 11.06.88 | @ IND | 13-106-0 | Colts 38-14 |
"It's still kind of crazy to me — I've never been targeted so much," Crowder told me this week. "I think a lot of the catches that came Sunday were me and Sam just kind of playing, still building that chemistry. It was cool to have 14 catches."
"I think Jamison did a really good job of finding the soft spot in the zones, and even in man coverage he did a good job of separating," Darnold said. "On a lot of those underneath routes, he just did a really good job of getting open."
Crowder's target total was certainly up there but Brandon Marshall had 18 targets at Oakland in 2015. The most for a Jets receiver in the last 20 seasons was the 20 throws Vinny Testaverde aimed in the direction of Dedric Ward on Christmas Eve in Baltimore in 2000.
It was impossible to resist telling Crowder one more thing about his game: It puts him on pace for an NFL-record 224 receptions this season. Jamison liked that ... we think.
"Wow, that'd be crazy," he said. "My job is just go out there and catch the footballs that come my way, so that's what I'm going to continue do and whatever happens happens. The main thing is hopefully, man, we get a win this week."
Sam's Streak
Crowder played a big role in Darnold's opening game in general, and specifically the WR was instrumental in Darnold's second-half stretch during which he completed 14 consecutive passes. Crowder caught seven of them.
Shorter distances can help a QB's accuracy, and none of Darnold's completions in that streak went for more than 11 yards, which had him thinking the day after the game.
"For me and for our whole team, it's about hitting the big plays when they're there," he said. "We were dinking and dunking it a lot in the game, which is fine. We've just got to hit the big plays. So when those big plays are there to be made, we've got to make those plays and I've got to make the throws."
Darnold, who will sit out Monday night vs. Cleveland with mono, became the third different Jets QB to complete at least 14 in a row since 2000. Chad Pennington hit 14 straight at Miami in 2003 and 15 in a row at Buffalo in '07. Josh McCown also connected on 15 straight passes, in the rain vs. Atlanta in 2017.
And in his last five games dating to last December, Darnold has raised his overall accuracy to 65.1% (108-for-166).
'Don't Hold Back'
Those were Le'Veon Bell's words to HC Adam Gase, and Gase didn't hold back on his new feature back. Bell, in his first game in 606 days, got 23 offensive touches vs. the Bills, just off his career average with the Steelers of 24.85 touches/game.
More significant may be that Bell played on every one of the Jets' 71 offensive plays.
While that figure is not unusual for Bell or a few other backs around the NFL, it is rare for Jets RBs. Play counts are available dating to the 2005 season, and in these last 15 years, only one other Jets back played at least 70 offensive plays in a game. That was Bilal Powell, who logged 73 out of 84 offensive plays in the Jets' overtime comeback win at San Francisco in 2016.