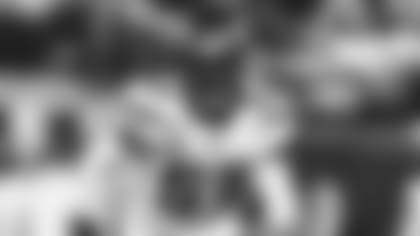 C.J. Mosley is not one to dwell on how much closer to perfect the Jets defense has to be to help out his struggling offense and help his team to some big wins.
"We can't allow that to weigh in our heads," Mosley said after the team's return from the 16-12 loss in Las Vegas. "That's just another distraction that we can call an excuse to not play up to our standard. ... Every time we step out on the field, from the first play to the last play, whether we're down, whether there's no chance of coming back, it's the way we run to the ball, the way we hit, the way we communicate."
And especially in Mosley's case, the way he tackles. A special Mosley moment flew mostly under the radar because of the loss but the Jets' defensive and team über leader notched 14 more tackles against the Raiders, and that has lifted him onto the 1,000-tackle plateau for his 10-year career. They also gave him 96 tackles this year, fifth in the league.
Here are some trivia items about Mosley as he sets out on his next thousand Sunday at Buffalo:
First tackle as a pro: Mosley, drafted 17th overall by the Ravens in 2014, started in his pro debut and notched the first seven tackles of his career on the road to 1,000. His first two tackles were of Bengals RB Giovani Bernard
First tackle as a Jet: That was against the Bills. It came not only in the 2019 season opener, not only on his first regular-season play as a Jet, but on the first scrimmage play of the season, when he took down Bills WR Cole Beasley after an 8-yard reception from then-second-year QB Josh Allen. And of course before Mosley's end zone groin injury wiped out virtually all of that first season in green and white.
Team Tackled the Most by Mosley as a Jet: That would be Sunday's opponent, the Bills. He's got 48 of them in his six games dueling with the Allen offense, including a sack of Allen last season. It may be a sack and it may be for zero yards, but it's still a part of Mosley's grand résumé.
Most tackles in a game as a pro: Those 14 tackles on Sunday night tied for fourth-most in a game in his decade in the NFL. The last time he had more, he notched his career high of 17 in the Jets' home loss to New Orleans in 2021.
Most tackles through first nine games in a season: It's this year. Even though 2022 brought C.J.'s greatest tackle bounty with a career-high 158 stops, he had 88 tackles through nine games then, which had been his first-nine-games career high.
Longest game streak with 10-plus tackles: The longest double-digit takedown streak of Mosley's career came in the final six games of 2021, 80 total. And that stretch is significant in at least two ways, since Mosley has a three-game 10-plus active streak, but also because of what Mosley took out of that first season in the Robert Saleh/Jeff Ulbrich defense.
"We understand the struggle," Mosley said. "In '21 our defense was in the same position [as this year's offense], trying to figure out what was our style, how did we want to come out and play our style of defense. It took some time. You look at '21 and now, it's a whole different defense. Just the camaraderie we have, the time we spend on the field, those hard losses, those hard plays that we have to learn from. We had to learn those together and we grew from that.
"So the only thing we can do is keep doing our job as a defense, and as a teammate keep uplifting our brothers through their struggle."
And 10 more tackles from the captain certainly won't hurt.