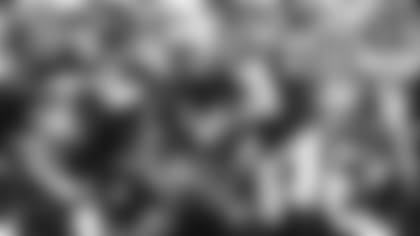 Another of the limited number of positive trends in the Jets' first three games involves their run defense. Like their turnover margin, the run D has a chance to help them right their ship in the coming weeks.
"It's a collective effort," said Steve McLendon, now in his fourth season as one of the pillars of the Jets' line, "and we just want to continue to get better. We know we can get better in the run game and that will help us by making teams one-dimensional.
"Never be satisfied or complacent with where we're at," he offered inspirationally. "Always come in with the same attitude and mindset to get better each and every day, and things will go in the direction that we desire for them to go."
Even despite the team's second-half hiccup against fleet Buffalo rookie Devin Singletary, the Jets have shown up well in the rankings. Opponents' 88.7 rush yards/game is eighth in the NFL after four weeks and their 3.64 yards/carry is sixth.
It is also interesting that run defense has been a Green & White "thing" for a while. From 2013 to the present, the Jets' defense, led variously by David Harris, Demario Davis and, last year, Avery Williamson, leads the NFL in allowing 3.85 yards/carry. Here are the league's rush defense leaders for the past seven seasons combined:
Table inside Article

| Defense | Yds/Carry | NFL Rank | Yds/Game | NFL Rank |
| --- | --- | --- | --- | --- |
| JETS | 3.85 | 1st | 100.9 | 4th |
| Seattle | 3.8711 | 2nd | 96.74 | 2nd |
| Baltimore | 3.8714 | 3rd | 96.71 | 1st |
| Denver | 3.90 | 4th | 102.6 | 6th |
"That's pretty amazing," said McLendon, who added that he's "very aware" of the team's recent history against the run. "Like Vince Lombardi said, man, confidence is contagious and so is lack of confidence. We have a lot of confidence in our ability to stop the run. We take great pride in that because we know if we don't stop the run, how are we going to get after the quarterback?"
Defense will be a key on Sunday if the Jets are to begin their rebound against Philadelphia. The Eagles' ground game features Jordan Howard, who's averaging 4.7 yards/carry, and second-round rookie Miles Sanders, purring along at 4.0 yards/carry. Slow them down and the Jets should have the opportunity to harass QB Carson Wentz.
It's a tall task in the City of Brotherly love. But as McLendon sees it, "It's not about them. It's about us."
Maulet's Historic Muff Recovery
Arthur Maulet always gives credit where it's due, and this week he passed the praise to Jets assistant special teams coach Jeff Hammerschmidt, who was instrumental in setting up Maulet's signature play — so far — in a Jets uniform.
"Yeah, Hammer was actually saying two punts before, 'He's going to put one on the ground,' " Maulet said about New England returner Gunner Olszewski. "I'm a guy that listens to my coach. He's like, 'When he drops the ball, dive at his legs, knock it and try to recover it.' He actually did that, and I was coached to do that."
Maulet's forceful Olszewski shove prevented the Pats rookie from finding the handle on his third-quarter muff and began the mad dash for the end-zone-bound pigskin. Maulet got to the ball first for the score.
It was, somewhat remarkably, the Jets' first punt muff recovered/returned for a TD in franchise history. Plenty of fumble-return TDs, plenty of muffed-punt recoveries, but none for a score. Until Arthur's gem.