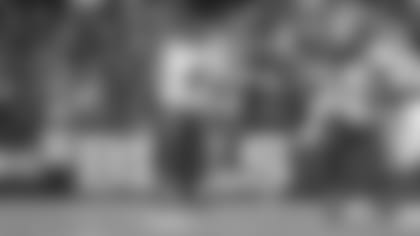 Jets special teams coordinator Brant Boyer has a simple rule for when to spring a fake kick on the opponents. '"It's one of those things," Boyer said after Ashtyn Davis' successful upback run at Dallas this year, "that if it's there, you take it, and if it's not, it's not."
Sunday at Buffalo, it was there and the Jets took it. For one gambling play, punter Thomas Morstead and cornerback Brandin Echols became an all-star pitcher and catcher battery when the Jets needed some juice badly.
"I'm not good at multitasking, so you think about it, there was no read, I was just throwing to a spot," Morstead told newyorkjets.com's Eric Allen following Sundays game. "I just had one cue, and I'm not going to have this not work because I threw a lollipop out there. It was just, hey, catch the ball and step into it and put it out in space where I knew he'd be and just look at the result. Obviously, it worked."
Echols could have had a 44-yard catch-and-run if he hadn't stepped on the sideline after being contacted by the Bills' Siran Neal. But the 18 yards was good enough to convert the fourth-and-2 — from the Jets 24, we might add — and send the Green & White on their way to their longest drive of the long day (11 plays, 85 yards) and their first touchdown in three games and 13-plus quarters.
It allowed the Jets to close the gap to what at the time seemed a manageable 16-6 deficit going into the Highmark Stadium locker room en route to the 32-6 defeat. But fake plays that work like charms are fun, they can be beneficial to a winning effort. And this fake punt was remarkable in several distinct ways in terms of player and team history.
Lucky Seven in a Row
The Jets have been uncannily successful when they turn infrequently to a fake kick to get things going. They have now run seven fake punts since 2014 and all seven gained first downs. Six of those seven have unfolded since 2017, when Boyer was in his second season as STC. The only fake that failed was a field goal fake vs. Jacksonville in 2021 when holder Braden Mann was stopped a yard short. These are the first five successful fake punts under Boyer's watch:
Table inside Article

| Yr,Game,Opp | Dn-Dist-YL | Fake Punt Play | 1D? | Jets W? |
| --- | --- | --- | --- | --- |
| 2017 Gm 4 vs JAX | 4th-21-X47 | Marcus Williams 31 pass fr Lachlan Edwards | Yes | Yes |
| 2018 Gm 15 vs GB | 4th-1-J31 | Rontez Miles 4 run | Yes | No |
| 2022 Gm 2 @ CLE | 4th-2-J46 | Jeff Smith 17 pass fr Braden Mann | Yes | Yes |
| 2022 Gm 9 vs BUF | 4th-1-J48 | Ashtyn Daivs 2 run | Yes | Yes |
| 2023 Gm 2 @ DAL | 4th-2-J24 | Ashtyn Davis | Yes | No |
Signing Morstead Up for Passing Camp
Morstead sad the Jets practiced the fake during the week but he didn't know they would run it vs. the Bills "until five seconds before I went out there." In a way, Morstead is the perfect passer for this play since he literally had never thrown a pass in a game in his 15 seasons as an NFL punter, giving the Bills cover team little idea what might be coming. The closest Morstead had come was when he was sacked for a 2-yard loss on a fake punt for the Saints at Dallas in 2014.
Cornerback Turned Pass-Catcher
Echols did his part beautifully, too, turning inside toward the middle of the field, then breaking for the sideline and his and Morstead's "spot," as soon Neal turned his hips in trying to cover him.
With the reception, Echols joins a short list of Jets DBs by trade who caught a pass either on a trick play or out of a special formation. Marcus Williams is the most recent corner to make a catch, from P Lachlan Edwards for 31 yards to convert a fourth-and-21 fake vs. the Jaguars in 2017. CB Antonio Cromartie had a reception for minus-2 yards, also vs. the Jags in 2012. S Corwin Brown had a 26-yarder vs. the Raiders in 1997, Eric Smith a 27-yarder at Tampa Bay in '09.
But the biggest reception by a corner is still the only touchdown pass thrown to a DB in franchise history. Vinny Testaverde, running a special Hail Mary at the end of the first half in Game 3 of the 2000 season, found the leaping Marcus Coleman, who lined up at WR for the play, in the end zone for the 45-yard score, early in the win over the Bills.
Morstead-to-Echols didn't have that kind of effect on the Jets at Buffalo, but maybe it can be a catalyst to get the offense off and rolling again, so that they can keep pace with, say, the Miami Dolphins on Black Friday.