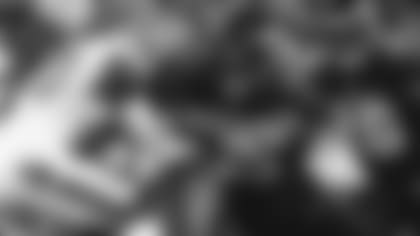 Jets linebacker Blake Cashman is following in the long list of NFL fifth-round rookies who have defied the naysayers, leaped into the fire and produced right from the jump.
"When it comes to playing football, I've always been looked at as an underdog, especially since when I got to college. I just look at it as it's all noise," said Cashman, the 157th overall pick in April out of Minnesota who came up big in his first pro start — on Monday Night Football, no less.
"What's important is what I believe and what I think between my ears and what my teammates and coaches believe. And I think they all know I'm hard-working, I'm going to get prepared, because we all know it's every player's responsibility to understand their assignment no matter what their talent or skill is."
Cashman, getting the ILB start because C.J. Mosley (groin) was sidelined, built off of his (to some) surprisingly comfy preseason with a good opener in reserve followed by a busy, productive first pro start. He had six tackles, including a tackle for loss of Browns RB Nick Chubb on the sixth play of the game.
He also swatted away a Baker Mayfield pass for a PD on a second-quarter blitz and split a sack of Mayfield with DE Bronson Kaufusi after the final two-minute warning.
"I felt like it was just football out there," Cashman told me this week in the Jets' locker room. "I understood my keys and assignments. Of course there are things you can do better. But I felt like it was a step in the right direction."
This chart doesn't prove a thing, of course, but it does show that Cashman is in very good company when his stat line is compared with other members of the Jets' front seven in their first pro starts:
Table inside Article

| Player | Season | Team | Tkls | Sacks | TFLs | PDs |
| --- | --- | --- | --- | --- | --- | --- |
| Blake Cashman | 2019 | NYJ | 6 | 0.5 | 1.0 | 1 |
| C.J. Mosley | 2014 | BAL | 7 | 0 | 0 | 1 |
| Jordan Jenkins | 2016 | NYJ | 5 | 0 | 0 | 0 |
| Neville Hewitt | 2015 | MIA | 4 | 0 | 0 | 1 (INT) |
| Leonard Williams | 2015 | NYJ | 5 | 0 | 0 | 0 |
| Steve McLendon | 2011 | PIT | 5 | 0 | 1.0 | 0 |
| Henry Anderson | 2015 | IND | 9 | 0 | 2.5 | 0 |
"I felt I played better than the week before," Cashman said. "Get 1 percent better every day — that's what we talk about around here. It's kind of our motto. One thing I said to myself going into the game, knowing there was going to be a lot of snaps, was just play fast. If you play fast, good things will happen, you'll find yourself around the ball, and then that leads to opportunities to make more plays."
If Mosley has to sit another game, Cashman knows he'll have to show improvement and speed to keep up with the Patriots' offensive players and scheme Sunday. But we have begun to see, in his highlight video and in stories being written about him such as by Jim Gehman on newyorkjets.com on Thursday, that for this thoughtful young man from Eden Prairie, MN, the NFL stage is not too big.
Three for Three
Adam Gase knows the curveballs that the NFL can throw at a head coach, but he probably never gameplanned the possibility that, with Luke Falk set to start at New England on Sunday, he'd have three different starting QBs in his first three games as Jets head coach.
The last time the Jets had three different QB starters in consecutive games was in 2005, when Chad Pennington started and injured his shoulder in Game 3 vs. Jacksonville, Brooks Bollinger took over for Pennington (and for Jay Fiedler, who injured his shoulder vs. the Jaguars) at Baltimore in Game 4, and Vinny Testaverde famously "came off the couch" to start — and win — Game 5 vs. Tampa Bay.
This unfortunate trifecta also happened late in 1989 (Ken O'Brien-Pat Ryan-Tony Eason), in the '87 strike season (David Norrie-Ryan-O'Brien), '77 (Marty Domres-Matt Robinson-Richard Todd), '64 (Dick Wood-Mike Taliaferro-Pete Liske) and for the '62 Titans (Butch Songin-Lee Grosscup-Johnny Green).
But 3-for-3 never happened before to any Jets coach in his first three games at the helm.