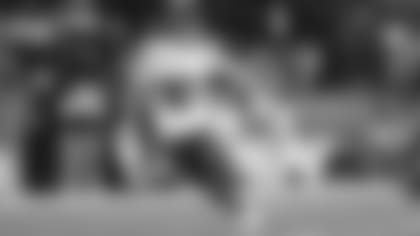 Braxton Berrios has always loved returning punts, ever since, as family lore has it, he was 6 years old and got his father to go out with him in the rain and throw the football around.
"I think it's an adrenaline rush that you don't get many places else, to be honest," Berrios told me at his Jets locker this week. "Yeah, I love doing it."
That has come through in the second half of the season. Berrios, who arrived as a waiver pickup from the Patriots with a sore hamstring, after the first eight games was averaging a tame 6.6 yards/return. Then beginning with the Giants game, he turned on the jets and lifted his average to 11.1, No. 1 in the NFL after 15 weeks.
Did he think he could be on the top of the heap this late in the season? Modestly, he agreed.
"Absolutely. as far as ability. I hold myself to that kind of standard," he said. "But it's not really me, it's really the 10 guys around me that give me the opportunity to do that each week."
Berrios hasn't yet "broken off the big one" — his long return was 26 yards vs. Oakland, which came in the middle of his last six games when he's mounted 9 returns of 12-plus yards. Those gains capture his return philosophy.
"Week in, week out, I'm just trying to do my job, and that's catch the ball and get a first down," he said. "Our average is right at 11 or just above it, and a first down's 10, so that's just me trying to do my job each and every time."
Berrios has a solid lead over the No. 2 returner, the Saints' Deonte Harris at 9.9 yards/return. And, coming close behind the footsteps of Andre Roberts, who led the NFL in PR average last year, Berrios has positioned himself and the Jets for inclusion on an exclusive eight-decades list. Only five other times since 1941 has one NFL team fielded the punt-return-average leader in back-to-back seasons:
Table inside Article

| Years | Team | 1st-Yr Ldr | Avg | 2nd-Yr Ldr | Avg |
| --- | --- | --- | --- | --- | --- |
| 1941-42 | WAS | Dick Todd | 17.0 | Andy Farkas | 13.7 |
| 1951-52 | DET | Jack Christiansen | 19.1 | Christiansen | 21.5 |
| 1958-59 | LRM | Jon Arnett | 12.4 | Arnett | 10.8 |
| 2007-08 | BUF | Roscoe Parrish | 16.3 | Parrish | 15.3 |
| 2010-11 | CHI | Devin Hester | 17.1 | Hester | 16.2 |
Berrios could also join Roberts (14.1 average), Kirk Springs (12.5 in 1983) and Dick Christy (21.3 in 1962) as the only Jets/Titans to lead the NFL/AFL in punt-return average.
"There's no pressure to do anything outside of anybody's ability here," he said. "It's another week, another game, and if we've done the same thing the last two weeks that we did the previous 14, then we'll be OK."
Those two games are vs. Pittsburgh on Sunday and at Buffalo a week later, and Berrios has to be aware of two factors if he wants to be the NFL's punt-return kingpin in 2019.
One is the PR minimum. NFL average leaders are crowned only if they have a minimum number of attempts. In the return departments (punts and kickoffs), all qualifiers must have at least 1.25 returns/game, or 20 for the season. Berrios is at 19 returns now, enough for 14 games but not for 16. Fair catches don't count. He needs at least one return, preferably a good, long one, over the last two games.
The other is Roberts, who's lying in the punt-return weeds this year, 10th overall with a 7.6-yard average (27 returns, 206 yards). That seems a long way from the top, but if Roberts explodes for a 90-yarder and another long return or two — and Jets fans will remember his 76-yard PR in last year's opener at Detroit — he'll be in the 11.0 neighborhood quickly. In the season finale, the Jets' specialists will not only need to keep the gates open for Berrios but to slam them shut on Roberts and the Bills.