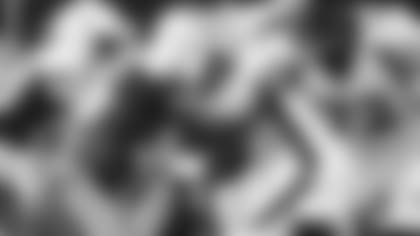 Add LB Jeremiah Attaochu to the members of this year's New York Jets Strip Club.
We've called it that beguiling name because the Jets have suddenly started piling up strip sacks. On Sunday against and the Broncos, they got Nos. 4 and 5 in the second quarter when S Marcus Maye pried the ball from Case Keenum's grasp, then later Jeremiah Attaochu punched the ball loose. The Broncos recovered both but anytime a pass rusher gets the ball on the ground it's good for the defense.
"I just think the coaches are making more of an emphasis to go after the ball," said Attaochu, in his largest role in the D since arriving as a free agent a week before the opener. "Especially with sacks not being sacks anymore, you never really know if you're going to get flagged or not. I think there's a bigger emphasis on that."
Already this year, Attaochu and Maye joined Jordan Jenkins, who had two forced fumbles on sacks, and Jamal Adams with strip sacks. The Jets' five in the first five games this season are more than the four they had in the previous 35 games.
Attaochu flashed nicely against the Broncos in his 33 defensive snaps, also drawing a holding penalty on LT Garrett Bolles on the last play of the first quarter. He's ready if called on Sunday against the Colts and brings some knowledge of QB Andrew Luck to the table.
"Andrew's a playmaker," Attaochu said. "He's a bigger quarterback out there. I actually played him in the preseason with San Francisco and he was shaking off tackles and sacks. So we understand his ability, regardless of who's on the field with him, to make a play."
In that third preseason game between the 49ers and Colts, Luck was sacked just once. By Attaochu.
Roberts Never Stops
Andre Roberts had been fairly quiet since his 78-yard punt return touchdown at Detroit in the opener — until he spun off a 51-yard return to the Denver 11 to set up a field goal. His 23.1-yard average on 10 returns is the best in the NFL for qualifying punt returners heading into Week 6.
"I told the team in there Monday that I would've loved to have blocked for a guy like that, because he never stops," said coordinator Brant Boyer. "I think the guy has done a fantastic job. He's a professional, he studies tape, he does everything we've asked him to do. I think he's taken a leadership role and the guys really rally around him and they know that a big play is waiting to happen."
Roberts' 51-yarder also marked the fifth time in franchise history that one player had two punt returns of 50 yards or longer in the same season. Dick Christy did it twice, the first time in the same game vs. Denver in '61, and Santana Moss erupted in back-to-back games in '02. The first four times:
| Punt Returner | Year | Opponent | Yards | Opponent | Yards |
| --- | --- | --- | --- | --- | --- |
| Dick Christy | 1961 | vs DEN | 70 | vs DEN | 64 |
| Dick Christy | 1962 | @ HOU | 58 | vs SD | 73 |
| Leon Johnson | 1997 | vs BAL | 60 (no TD) | vs MIN | 66 |
| Santana Moss | 2002 | vs CLE | 63 | @ SD | 52 |
Can't Cro Enough
Here are two final distinctions for the well-dissected big game enjoyed by RB Isaiah Crowell vs. Denver:
Crowell's 219 rushing yards led the second-largest rushing-yardage advantage in a game in franchise history. The Jets rushed for 323 yards, 231 more than the Broncos' 92. The franchise mark was set in the 2010 regular-season finale when the Jets outrushed the Bills by 239 yards, 276-37, with the late Joe McKnight showing the way that day with 158 yards on 32 carries.
The Jets now have exactly 200 games in which a back has rushed for 100-plus yards. Crowell's game last Sunday was No. 200.