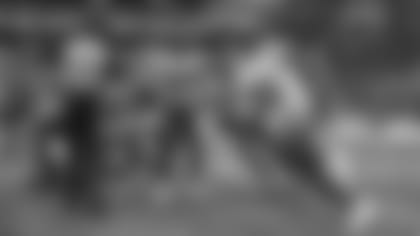 When it comes to turnovers, the Jets are historically streaking.
One streak of the unfavorable variety that we've heard about is the five games this season and seven full games reaching back to Game 15 vs. Cleveland in 2020 in which the Jets haven't had a single interception. That's the longest pick-less streak in franchise history, by two games over a half-dozen five-game streaks.
"It's something I've never really seen," DL Sheldon Rankins said about this year's drought.
"We've just got to keep working at it," LB C.J. Mosley said. "We've got to take the next step."
The steps that head coach Robert Saleh said his staff are taking to get the players over this hump is about "continuing to find ways to keep it simple, keep them in their home base with regards to technique, fundamentals, effort, and all the different things that we talk about, keep teaching the '501' [post-graduate course] aspect of football, and see if, when we get back, we can find those steps and then start getting our hands on the ball."
But the other streak helps counterbalance the lack of interceptions, and that is of offensive players keeping their hands on the ball — the Jets haven't lost a fumble in the last eight full games. Their last lost fumble came on a Frank Gore run at Seattle in Game 13 last year. Eight games without a lost fumble is the longest streak of its kind in franchise history, two games better than a quintet of six-game streaks.
Turnovers are an important game within the game of improving on all fronts as a football team. The Jets, over the bye week and heading next week toward their return engagement with New England, are focusing on a continuation of their no-lost-fumbles streak and on reducing their interceptions on offense while getting into the INT column on defense.
CB Bryce Hall, who had the Jets' most recent interception, of Jared Goff against the Rams last season, has five passes defensed in the last two games combined, nearly got that interception in the third quarter against the Falcons, and just has a feeling.
"Man, I'm right there," Hall said after the London game. "The next one is going down."
Interference Patterns
The 41-yard pass interference call that Elijah Moore drew on Atlanta's A.J. Terrell on Sunday, coupled with the 43-yarder Corey Davis induced on Tennessee's Dane Cruikshank, put a spotlight on PI calls against the Jets. This is the first time since 1962 that the Jets have drawn 40-yard penalties on the opponents in back-to-back games.
Another way to look at it: The Jets forced opponents into more 40-yard interference penalties in the last two games than they had in the previous 89 games dating to 2015.
Lowering the bar, the last time opponents were flagged for penalties of 30-plus yards in consecutive games was still so last millennium. In 1988, Wesley Walker got Miami rookie CB Rodney Thomas on a 40-yard PI and the next week against Pittsburgh, an unidentified Steeler interfered with Walker for a 32-yard penalty.
Two Hot Defenders
Quincy Williams continued his play-making stretch with a pair of forced fumbles in London. The linebacker joins Tarell Basham (vs. Cleveland last year) as the only two front-seven Jets defenders to notch two FFs in a game in the last decade. DB Javelin Guidry also had a two-force game vs. Las Vegas last year.
And Tim Ward emerged in the D-line rotation. His relentless rush and timing resulted in a pair of pass defenses behind the line of scrimmage against the Falcons' Matt Ryan. Ward joins Quinnen Williams (vs. Miami and Ryan Fitzpatrick last year) and Basham (at Miami, also vs. Fitzpatrick, in 2019) as the only Jets with two PD-BLS in the same game in the last three seasons.
Ward still has a way to go to catch DL Kony Ealy, whose brief stay in green and white in 2017 produced four PDs behind the line in one game (vs. Jacksonville and Blake Bortles) and nine PD-BLS for the entire season.