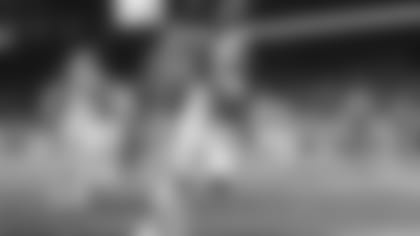 It was only natural that Matt Patricia, being a 13-year disciple of Bill Belichick, tried to "Chick" the Jets in his first game as an NFL head coach.
Detroit won the opening toss on Monday, so Patricia decided to "defer." It worked out that the Lions got the last full possession of the first half and drove to a field goal. Then they took the second-half kickoff and moved quickly to a touchdown to tie the score at 17-all.
However, the Jets had an approach that night that was way stronger than a mere Belichick maneuver to score 10 or 14 points sandwiched around halftime. They had a four-touchdown plan. A 31-point stratagem. An all-phases blitzkrieg.
"That's our approach as a defense, for sure," LB Darron Lee, who supplied the second score of the eruption on his interception return, said of the Jets' potential to string points together this year. "I know the offense wants to be aggressive as well. We're definitely always trying to build on that, so hopefully down the road something like that could happen again."
That it happened once was one for the Green & White record books. The Jets sprinted from that 17-17 tie with Sam Darnold's scoring pass to Quincy Enunwa, Lee's return and Andre Roberts' punt-return score in a span of 2:36. They added a Jason Myers field goal and then Isaiah Crowell's long dash to finish their 31-point run in a mind-numbing 8:42.
These are the second-fastest gameclock times for scoring three and four touchdowns in a game in franchise history:
| FASTEST 3 TDs | Date | Opp | Final | FASTEST 4 TDs | Date | Opp | Final |
| --- | --- | --- | --- | --- | --- | --- | --- |
| 1:29 | 9/24/72 | @ BAL | Jets 44-34 | 8:19 | 9/18/66 | vs HOU | Jets 52-13 |
| 2:36 | 9/10/18 | @ DET | Jets 48-17 | 8:42 | 9/10/18 | @ DET | Jets 48-17 |
| 3:02 | 12/04/11 | @ WAS | Jets 34-19 | 10:02 | 10/27/68 | vs BOS | Jets 48-14 |
The only quicker three-touchdown span was the 1:29 late in the first half of the classic Joe Namath-Johnny Unitas shootout in Baltimore in 1972. The only time they got to four faster was in 8:19 on four Namath TD strikes in the middle two quarters of their '66 Shea Stadium blowout of the Houston Oilers.
What's as remarkable about the opening-night triumph is that it was only the eighth game in franchise history that the Jets scored TDs on a run, a pass, a defensive return and a special teams return. And in Ford Field they did all that in less than two-thirds of one quarter.
Is anything close to a similar outburst repeatable this season?
"We feel like we've got the talent and we've got the coaches," Crowell said. "With everybody working together, I feel like we can do whatever we want."
Roberts, a ninth-year vet after all, observed that the conditions that created the Jets' 31-point quarter — their most in any quarter on the road in their history — aren't going to recur every week in 2018. The Dolphins, for instance, are on guard to prevent that from happening in Sunday's home opener at MetLife Stadium.
"Obviously, we have the capability. We've done it once," he said. "But every team we play is a new test. We're looking forward to Miami this week. That's going to be a test for us, so we'll see what we can do this game."