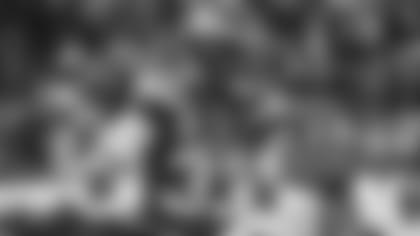 We've already embarked on 2020 so here are a few more Inside the Numbers nuggets, some new, some updated, as we wrap 2019:
Safety of Distinction
S Jamal Adams got a lot of hardware late this season — his second Curtis Martin Team MVP award, his second selection as a Pro Bowl starter, All-Pro first-team recognition. He didn't get one of the things he wanted, which was the NFL record for most sacks in a season by a DB. He finished with 6.5 sacks, a team record but 1.5 short of the league mark.
But Adams is the first DB to have 6-plus sacks and 2-plus touchdowns in a season since individual sacks became official in 1981. And he is the first player regardless of position to have 6 and 2 in those categories since 2014, when three front-seven players did it.
Run Stoppers Extraordinaire
The final rankings for the Jets' run defense was 2nd in the NFL in both rushing yards allowed/game (86.9) and yards allowed/carry (3.34).
Even though the Green & White reached No. 1 in the NFL in both categories this season and in previous seasons, they never finished No. 1 per-game although they did lead the league in per-carry in 2013 (3.35). Their No. 2 per-game ranking this year is tied with the 2015 and 1970 teams for highest finish since the merger. And both the per-game and per-carry averages are third-best for a season in franchise history.
Burgess: Life Behind the Line
A major reason for the great run defense this year is the amount of time Jets defenders spent making tackles at and behind the line. Unofficially, the team totaled 133 tackles for loss/no gain for minus-202 yards, whizzing past their best totals in those categories since 2000, the 2016 season in which they had 128 tackle for minus-150 yards.
Individually, LB James Burgess pulled past undrafted rookie DL Kyle Phillips to lead the defense with tackles for loss/no gain at 17 and tackles for loss at 9. Burgess' TFLNG total is the most since DL Sheldon Richardson's 20 in 2016, which is the most by a Jets defender since 2000. But 17 such tackles aren't bad for a May waiver acquisition who wasn't active until Game 7.
Interceptions by Committee
With the interceptions by Burgess and Arthur Maulet at Buffalo in the season finale, the Jets established another defensive spread-the-wealth standard. Those two were the 10th and 11th different Jets defenders to score picks this season, the first time the Jets have had that many interceptors since the 1987 strike season and the '69 campaign. The only season with more individual pick artists was 1964 with 12.
Some Bell-Ringing
It wasn't RB Le'Veon Bell's best season, but a few notes to put it in perspective. Unofficially, Bell averaged 1.03 yards before first contact, by far the least among the 19 times a Jets RB had 100-plus carries in the last 12 seasons and an indication of the kind of season it was behind Bell's ever-changing O-line.
But Le'Veon also averaged 2.19 yards after first contact, which calculates to 68% of his rush yardage coming after getting hit. That figure is the second-highest among those 19 Jets RBs, topped only by Chris Ivory's 70% of yards after first contact in 2013, and a measure of Bell's determination to fall forward and get the most he could on his carries.
Finally, on fourth-and-1, Bell got the call to carry the ball four times and converted all 4 times. He's only the third RB in franchise history to go 4-for-4 on fourth-and-1 runs, following Brad Baxter in 1991 and Curtis Martin in 2000.
TEs Are Back, Baby
Take the statistical categories for computing passer rating and apply them to the pass-catchers and you get "receiver rating." It's not a perfect measure but it's instructive, especially regarding the Jets TEs.
The team did a fine job of building and coaching the position for this past year and next year. Even though Ryan Griffin missed most of the final four games and Chris Herndon played only one game due to injuries, the tight ends as a group compiled a 122.0 receiver rating, the best by any Jets position group since 2000. And Griffin's 136.4 rating is the best of any individual Jets TE since 2000.
Vyncint the Swyft
"Vyncint is pretty damn fast," ST coordinator Brant Boyer said last month. One measure of WR Vyncint Smith's speed is what he did with the ball in his hands. With his three carries this season, he gained 20 (at Buffalo), 19 (for a TD at Philly) and 13 yards. His 17.3 yards/carry is the second-best by any player in franchise history with at least 3 carries in a season, behind only Jeremy Kerley's 21.5 average on 4 carries in 2014.
Punting Trivia
Lachlan Edwards remains a work in progress. But it bears repeating that he continues to post solid metrics as he continues to strive for improvement. This season, for the third straight year, he set the franchise mark for net average, with his 41.6-yard net bettering his 40.8 of last year and his 40.5 of 2017.
Then with 28 inside-the-20s and 3 touchbacks among his 87 punts, Edwards' 9.3 ratio of I20s-to-TBs is the best by a Jets punter since Steve Weatherford's franchise mark of 10.5 in 2010. And Lach's 3.4% TB rate is the best in franchise history.
More trivia on such as K Sam Ficken and the Jets' O-line cutting way down on their penalties lie ahead in the coming weeks on newyorkjets.com.