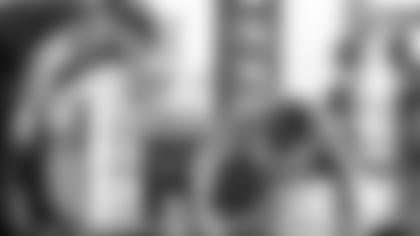 It had been a while since Spencer Long threw his weight around in an NFL practice, after missing nine of Washington's final 10 games last year with a knee injury. But at last week's OTA sessions, the Jets' new center via unrestricted free agency finally jumped into position and team drills.
"It was minimal reps, just kind of getting in there and getting the rust off, seeing how it feels — and it felt really good," Long told me after practice at the Atlantic Health Training Center. "It's just good to be back in there after months off."
Not many lockers away, Brent Qvale was happy to see Long's progress.
"He's just starting to get back into it, and he looks good," Qvale confirmed. "I'm excited to play football with him again and just having another guy from Nebraska here with me. We're just trying to be here for each other and make each other the best players we can be."
Yes, as you might've heard, quite a Cornhuskers alumni group is meeting these days in North Jersey. Long, Qvale and WR Quincy Enunwa all played at Nebraska from 2010-13. For now, though, we'll just deal with the two O-linemen.
How close are they? Long, who spent his first four NFL seasons with the Redskins, and Qvale, entering his fifth season with the Jets, are currently rooming together near the facility during OTAs.
"We have too many stories to tell. We played a lot of good football together in college," said Qvale, who also redshirted along with Long in '09.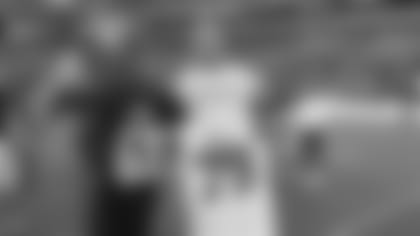 "We're good buddies. We've been friends for a long time," Long said. "We were just talking the other day. It's kind of funny, the rarity of two college teammates, same class, same position, same team. What are the odds?"
Perhaps it's worth noting that Long calls Qvale "Little Qwalls," and Qvale observes that Long "is just a big dude." For reference, Long's roster size is 6'5", 318 while Qvale is 6'7", 315.
Such a relationship has to be a source of strength for the Jets O-line, which returns most of its members from 2017's season of growth and has also added some young, experienced starters to the mix in Long and Travis Swanson. On that as on other matters, these two old 'Huskers think alike.
"It was awesome bringing Spence in and getting Travis and bringing back Jonotthan [Harrison], Dakota [Dozier] and people like that who have worked hard and understand the position," Qvale said. "It will help raise us to another level."
"We've got a lot of good guys that want to win, that want to work — that's a recipe for success," Long said. "As long as you have guys that are buying into the system and aren't afraid to work their butts off for everything every day, we're just going to keep getting better."