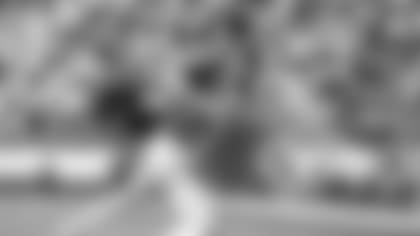 Throughout the season, NewYorkJets.com reporters Eric Allen, Ethan Greenberg and Randy Lange will each give their predictions to a series of questions regarding this year's Jets.
Today's question: How will Zach Wilson and the Jets offense fare without some of its playmakers?
EA: The Saints and the Jets are banged up and this game's outcome could come down to depth. After Corey Davis was placed on injured reserve, Robert Saleh announced Elijah Moore was dealing with a quad injury. Davis was rookie quarterback Zach Wilson's top target at the season's onset and he ranks second on the team in receiving yards (492) and receiving TDs (4) and is third in catches (34). We started to see the chemistry develop between Wilson and Moore last week against the Eagles as the playmaker was targeted 12 times and hauled in 6 catches for 77 yards with 1 TD. Moore paces the Jets in receptions (43), receiving yards (538) and receiving TDs (5), plus he's been targeted a team-high 77 times. His potential absence would be a blow for a Jets offense that scored on its opening three possessions against Philadelphia. Wilson played his best game and it would have been great to see him against this stingy Saints defense with most of his weapons at his disposal. The Jets' depth will be tested, but Jamison Crowder (42-372-2TD) remains a valuable target in the slot; Keelan Cole, who averages a team-high 15.7 yards per catch, is expected back after a bout with Covid; and this is a great opportunity for Denzel Mims to get some more reps. While Wilson and the offense started hot last week, they must find a way to continue to fight through no matter the challenges in the flow of the game. Despite their five-game slide, the Saints get after it defensively and their allowance of 3.6 yards per carry is the best in the NFL and their third in red-zone defense (47.2%). This could be tough sledding at times, so the Jets have to protect the ball, end every drive with a kick and take advantage of any explosive opportunities that arise.
EG: I think Zach Wilson and the offense will be fine. The Jets have a deeper receiving corps in years past for situations like this and Wilson has experience with all the receivers. Keelan Cole is back in the lineup after missing last week's game and he's the most experienced of the bunch along with WR Jamison Crowder, who has 2 TDs this season (1 from Wilson). Crowder is a reliable option for any QB and led the Jets in receptions and yards each of the last two seasons. Cole, who is in his first season with the Green & White, had 642 yards and a career-high 5 TDs in 2020 on 55 catches. He's averaging 29.9 yards per game, which puts him on pace for more than 500 yards over 17 contests. He's also shown good chemistry with Wilson, particularly against Tennessee when he had a 54-yard reception and a critical 29-yard reception in overtime that resulted in the game-winning field goal. The bodies in the backfield will be interesting against the Saints run defense that ranks No. 5 in the NFL. RB Tevin Coleman has been the lead horse with rookie Michael Carter out of the lineup, but he hasn't practiced because of a concussion. That means Ty Johnson is likely to be the lead back followed by La'Mical Perine and Austin Walter. Johnson is more than a capable back in both the run and pass, and Walter and Perine have experience in this offense. Perine has been in the system since the staff was hired and Walter first played with the 49ers in 2020 before spending time with the Jets in the summer. He also played in each of the last two games. While Corey Davis played a prominent role in this offense and the potential absence of Elijah Moore, who has 5 TDs in as many games, would be a blow to the offense, but I think the unit can overcome the challenges.
RL: I side firmly with Zach Wilson on this question. He was asked about the "degree of difficulty" heading into New Orleans having lost WR Corey Davis to IR, possibly not having WR Elijah Moore and without Tevin Coleman (concussion), still without Michael Carter. "I feel like the next guy up has something to prove as to why they weren't maybe on the active roster before," Wilson said. "Those guys are hungry and ready to be in the situation and ready to take advantage of the opportunity. I feel like we've had a good week of practice and haven't lacked in anything. And those guys understand the challenge coming for them as well, and so I'm not going to approach it any differently." Whether that's true or whistling past the graveyard, what does it matter? Also consider: Who was the Jets' last 100-yard rusher? Ty Johnson last year vs. Vegas. Who has the most receptions, receiving yardage and TD catches for the Jets since 2019? Jamison Crowder, easily — 179-1,904-14. Which Jets TE has the most TD grabs since 2013? Ryan Griffin (actually tied with Jeff Cumberland and Chris Herndon at 7). Griff's banged up but all could be in uniform along with Wilson and a bunch of others. So it's next man up. Dance with who brung you to the game. No excuses. Get 'er done.