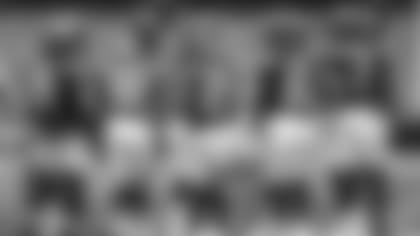 Throughout the offseason, NewYorkJets.com reporters Eric Allen, Ethan Greenberg, Randy Lange and Olivia Landis will each give their predictions to a series of questions regarding this year's Jets.
Today's question: How Will the Jets Offense Perform in Their Second Meeting Against the Dolphins?
EA: Better. Much better. Little more than a month ago, the Jets hit rock bottom on offense in South Florida during the Dolphins' 24-0 shutout victory. Not only did they not record a point, but they also went 2-of-17 on third down (12%) as Joe Flacco was sacked 3 times and intercepted once. Flacco, who has played well in 6 of the past 8 quarters, will return to his backup role because Sam Darnold will make his seventh start this season. And for the first time, Darnold will work with all three of the Jets' top receivers. Denzel Mims, Breshad Perriman and Jamison Crowder combined for 17 receptions, 330 yards and 4 TDs combined in the Green & White's one-possession losses to the Patriots and the Chargers. Left tackle Mekhi Becton, one of the NFL's most impressive rookies, also was inactive when the Jets and Miami met in Week 6. The Dolphins are going to do what they do — play man coverage with outstanding corners Xavien Howard (6 INTs) and Bryon Jones on the outside, line up Nick Needham against Crowder and blitz Darnold once the bus arrives. The 'Fins give up yards, but they are No. 2 in third-down efficiency on defense (33.9%), tied for third in takeaways (17) and No. 4 in scoring defense (20.2 Pts/G). If the Jets can stay ahead of the sticks, there will be plays to be made down the field. Darnold, who is 1-3 against Miami with 4TDs and 8 INTS while being sacked 11 times, also gives you a threat with his legs (though his bouts with shoulder injuries adds a cautious note) and has more threats around him than at any point this season.
EG: I expect a much different offensive performance than the last time these teams played in Week 6, when the Jets were shut out. Both LT Mekhi Becton and WR Denzel Mims, two important pieces of the Green & White's offense, did not play in the first meeting in South Florida. The Jets seemed to have turned a corner on offense the last two games, averaging 27.5 points per game compared to their season average of 14.9 a game. They've also averaged 307 yards per game compared to their season average of 268.6. The Dolphins have a good defense that may give up 380.6 yards per game, but ranks No. 2 in third-down defense (33.9%), No. 4 in points allowed per game (20.2) and are tied for third with 17 takeaways. Whether it's Sam Darnold, who didn't play in Week 6 against the Dolphins, or Joe Flacco, having "the Three Dudes" at wide receiver has been a big difference to the team's offense in the two games they've played together. The Jets are better equipped to deal with Miami's press coverage with Breshad Perriman, Denzel Mims and Jamison Crowder in the lineup. The Dolphins have debatably the NFL's top CB duo in Xavien Howard, who's tied for the NFL lead with 6 interceptions and Byron Jones. Perhaps the Jets will look for Crowder, particularly if Darnold is playing. Crowder is likely to often have Nik Needham in coverage. The Green & White will have opportunities to stretch the field, and tried to do that in its first meeting against the Dolphins, but Flacco and Perriman couldn't connect. Now with a full arsenal, perhaps the Jets can strike.
RL: I anticipate the Jets will be more "on point" at home vs. the Dolphins than they were in South Florida. They've scored more offensive touchdowns the past two games (7) than they did in their first eight games combined (6) because "the Three Dudes" have been united. Whether WRs Jamison Crowder, Breshad Perriman and Denzel Mims are teamed with Joe Flacco for the third time this season or with Sam Darnold for the first time, they have the look of a dynamic trio, and it's time for Crowder, who's been blanketed lately, to erupt for a big game. But while the Dolphins will give up yards, it would be a shock if they yielded lots of points: They're 21st in the NFL in yards allowed/game, but fourth in points allowed/game, a plus-17 rankings difference that's the best in the league. I'd wager it's no coincidence that Miami HC Brian Flores preaches keeping points but not necessarily yards off the board since he comes from the Bill Belichick tree and Little Bill's Patriots (until this year) have always had productive, opportunistic scoring offenses and defenses. The 'Fins D is built on things such as third-down defense (they're se cnd in opponent red zone TDs), special teams kick coverage (second against foes' punt returns, first vs. their KO returns) and field position, and of course turnovers (17 takeaways, tied for third, and a plus-6 margin, tied for fourth). Long story short, the Jets should be able to move the ball on Sunday, and they won't be shut out again, but they'll need to be sharp on third down and in the RZ if they don't want to be frustrated on the scoreboard one more time.
OL: I am looking forward to seeing how the Jets offense can turn things around this time against the Dolphins, and I believe it will be a much different story for Round 2. Over the past several weeks, the Jets offense has had much more success through the air compared to the first time the team matched up with the 'Fins. In Week 6, the Green & White got shutout, 24-0. Joe Flacco was under center and WRs Jamison Crowder and Breshad Perriman combined for 110 yards, however, they came up short. The offense started to look more efficient in Week 8 when they came close to defeating the Patriots, and Perriman and Crowder combined for 3 TDs in the game. Add Denzel Mims and the threesome had 189 receiving yards. The three receivers have proved to be a critical piece in the offense and have played well since all three have been healthy. I do think it will be a tough go, though, considering Miami's defense is ranked No. 2 in the league in third-down defense, and the Jets have struggled in that area this year, ranking No. 31 in the league in third -own conversions.