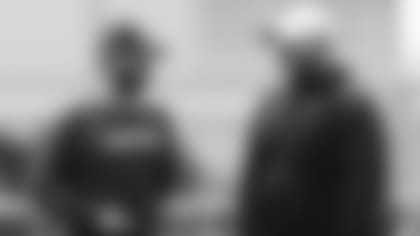 Seniors, NFL executives and college football junkies weren't the only groups represented strongly at the recent Senior Bowl practices and game. Reporters also were in abundance, and newyorkjets.com's Ethan Greenberg caught up with several of them to ask how they see the Jets' offseason unfolding under the guidance of general manager Joe Douglas and head coach Adam Gase.
Vic Carucci, the long-time NFL writer for the Buffalo News and Sirius XM Radio host of Press Coverage on Saturdays, said teamwork was a big key.
"I think the most vital part of this Jets offseason is that Joe Douglas forms a nucleus of chemistry and continuity with Adam Gase," Carucci said. "Where you see success, you see a GM and a coach who know how to see each other's vision and share the vision. That doesn't mean they don't disagree, but understand that you're working for a common cause."
A few saw a specific emphasis from Douglas as the league moves from the Super Bowl toward the Combine and then on to unrestricted free agency and the draft.
"I don't think it's going to be like 'We're going to target these four high-high end guys,' " NFL Network insider Ian Rapoport said. "First of all, the Jets have already got some of those guys from last year. Second of all, from what I know about Joe's philosophy and his background, it is way more about building up depth, building the middle class, making the smart free agency signings rather than rolling the dice."
"Joe came from Baltimore," SiriusXM NFL insider Adam Caplan said. "Ozzie Newsome really did not build his team through free agency. There was a little bit of free agency but mostly the draft. My sense is Joe is going to do that. ... At Philly, they did a great job of mixing both. But Joe's history was mostly in Baltimore and I expect him to do more with the draft."
And what position group might the Jets target in the coming months? Two more NFL Network reporters were in agreement on that topic.
"I think you're going to see the roster-building begin," Kimberly Jones said, "and it would not surprise me if it starts in the trenches. I think most of us understand that for the Jets, that begins with the offensive line needing the most help."
"Whether it's free agency or the draft," said Mike Garofalo, an emphasis on the O-line "can really make a lot of other things, including the quarterback, look so much better. If they come out of this offseason without having addressed the offensive line, without feeling better about what they're doing up front there, I'd be floored if that's the case."