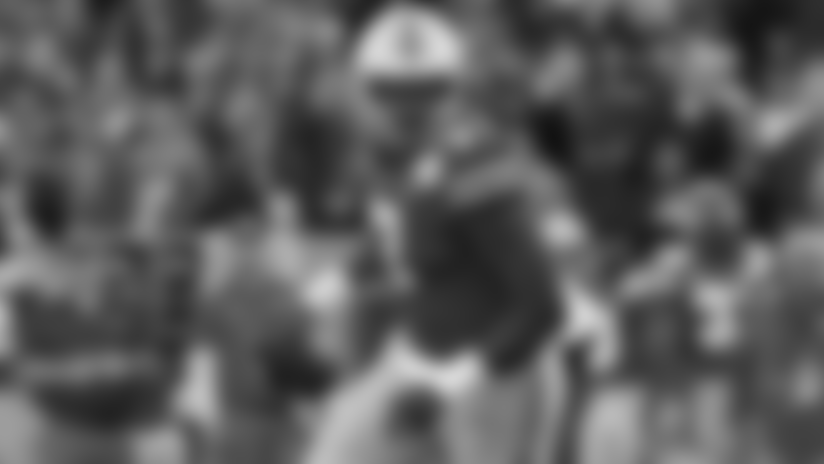 History may be the best storyteller known to mankind as it covers everything from the past of a country to technology to sports. So, what does history tell us about the NFL Draft?
No matter how the prospects are regarded, quarterbacks always drive the draft.
The proof: A signal caller has been selected in the top-five in the last 17 of 18 drafts, the outlier being the 2013 Draft when EJ Manuel was the first quarterback selected at No. 16 to the Bills.
More proof: Over the last three years, 10 of the 11 quarterbacks drafted in the first round were selected by a team that traded up to secure the pick, seven of which came in the top 10. The Browns were the one team not to trade up as they selected Baker Mayfield with the No. 1 overall pick last year.
While this year's class is headlined by the pass rushers and the QB crop isn't as highly regarded as last year's, position value typically holds more weight as April creeps closer.
"It's one of those drafts where the fifth pick or the 25th pick may not be all that different, but if one of the quarterbacks catches fire, that's the way that the league works, teams are going to go up to get them," MMQB's Albert Breer said. "That's what the Jets did last year. The Giants and Jaguars, one of those teams could wind up being a little antsy to move up and the Jets would be in a prime spot to move out."
As it stands, the group seems to be led by Ohio State's Dwayne Haskins, who NFL Network's Daniel Jeramiah ranked as his QB1 and the 15th-best prospect, followed by Missouri's Drew Lock (23), Duke's Daniel Jones (24) and Oklahoma's Kyler Murray (29). The rankings could crystalize after February's NFL Scouting Combine, but they have an equal chance of becoming murkier. Either way, one thing is certain come April 25th – the unpredictable is inevitable. Whether that involves the quarterback or not, only time will tell.
The Athletic's Dane Brugler believes the Jets are in a good spot at No. 3 considering they have their quarterback and are in position to either snag a blue-chip player or trade back and add draft capital they lost in the trade up to snag Darnold. Brugler added on his Trust the Tape podcast, "Quarterback desperation does not take a year off and I think one of these teams will [trade up]."
The Green & White current hold six picks in this year's draft coming in rounds including a pair of third rounders. The Jets don't have a second-round pick as a result of the deal that landed Darnold, but they could strike a similar deal as last offseason, but as the seller.
"At No. 3, you could get any pass rusher you want. There's great talent in the middle of the line as well," NFL Network's Andrew Siciliano said. "This is a defensive draft. Don't be surprised if eight of the top 10 are defensive players. But if you want to move back and stockpile players, it's worked for other teams. When you have so many needs, it's a great way to do it."