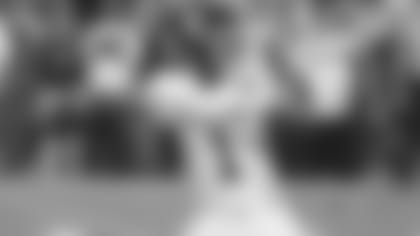 Quarterbacks tend to drive the NFL Draft and Kyler Murray's curveball thrown to the Oakland Athletics could indirectly have a significant impact on a pro football team who wears a different shade of green than the A's — the New York Jets.
Using a quote graphic Monday, Murray professed his love for football and his intention to dedicate 100 percent of his time to be the best quarterback possible.
Back in June, the A's took a big swing and drafted Murray with the No. 9 overall selection in the MLB Draft.
"This guy is fun to watch play football," said Billy Beane, the A's executive vice president of business operations, of Oklahoma's two-sport sensation. "I'm looking forward to it, I'm not fearing it, mainly because I think the athletic ability is going to be fun to watch and he's going to be fine.
"He's really fun to watch on a football field, and he's going to be fun to watch on a baseball field. It's neat that he gets to do both, and that the country gets to see both, but we're going to get the best years, and he's going to have a great baseball career."
But Murray was as good as any player in college football last season, throwing for 4,631 yards, rushing for 1,001 yards and amassing 54 total touchdowns. He helped Oklahoma win a Big 12 title and reach the College Football Playoff while becoming the second consecutive Sooner to win the Heisman Trophy.
Baker Mayfield, who was awarded the same hardware in 2017, was taken with the No. 1 overall pick by the Cleveland Browns in the 2018 NFL Draft. Mayfield had a stellar rookie campaign, claiming Rookie of the Year honors by the Pro Football Writers of America after throwing for 3,725 yards and setting a rookie league record for touchdown passes with 27.
After moving up last spring and acquiring the No. 3 overall selection in last year's draft, the Jets took USC QB Sam Darnold. He is their QB of the now and the future, so the Green & White won't be in the Murray sweepstakes. But there are some QB hungry teams who might be looking to move up in the draft order and Murray — albeit 5'9" or 5'10" — is a unique athlete and most prognosticators feel he will be a first-round pick come April along with Dwayne Haskins (Ohio State), Drew Lock (Missouri) and Daniel Jones (Duke).
And as The Athletic's Dane Brugler pointed out recently, "Over the last three years, 10 of the 11 quarterbacks drafted in the first round were selected by a team who traded up to secure the pick."
Murray's intentions impact a lot of people and organizations. The Jets could be one of them.