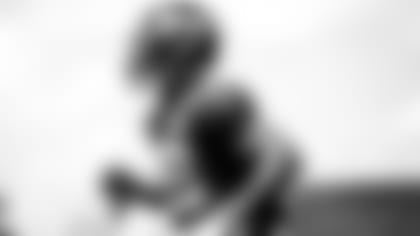 It came as no surprise when Jets head coach Adam Gase said Sunday that RB Le'Veon Bell won't play in a game this preseason. And today Bell confirmed that, with the way he and the Green & White are practicing, he'll be ready to roar back into the NFL's consciousness on Week 1 against Buffalo.
"Each and every day I've been getting better," Bell said after today's practice at the Atlantic Health Training Center. "I think the coaches see it. They've been putting more reps on me in practice. And I think our defense does a good job of giving me good contact, not trying to hurt me or take me to the ground too much, but really giving me nice contact and trying to rip the ball out of my arms and trying to play more game-speed-ish.
"Obviously, it's still practice. I know once I get into the game, it's going to be a little different. But that's something I'll adjust to. I've been playing football my whole life. Just like I had to get adjusted to practice and all the other things, it's going to come. I don't think me getting four plays in the preseason are going to help me for Week 1. It's going to be just me getting ready and prepared in practice and when the regular-season games come, I'll be ready."
It's an interesting wrinkle to training camp, which beginning in 2011 became less about a war of attrition and more about one-a-days, red jerseys and "thud" practices. Bell said he and his defensive mates have an arrangement to bring back a little more of that old-time preseason feeling.
"Guys understand I'm not playing in the preseason. So C.J. [Mosley], Jamal [Adams] and veteran guys like Steve McLendon give me a little something, going for the ball, just so I can get prepared. The kind of look at me like they don't want to hurt me in practice. But even if they don't sometimes I try to give them something, get them a little upset.
"We've just got a mutual understanding and we're getting better out there."
That includes the relationship between him and second-year QB Sam Darnold. Even though we won't get any hints of the state of that connection at game tempo this summer, Bell says it's growing, perhaps for the simple reason that he and Darnold are two peas in a pod.
"Sam has all the intangibles, he has the mindset. You can see him — he's a competitor. Every day in practice he literally wants to get better. It's hard to ... it's hard to describe someone that's like that because I'm like that.
"A lot of people go to practice and you're just practicing. They call a play and you run the play. When they call a play for me, I'm trying to work myself and I'm trying to like really get better at it. And I can see that in Sam. When he makes a throw he doesn't really like, I can see that in his face, 'I could've thrown that better.' You've got to love that about him because he literally wants to be perfect.
"He reminds me a lot of myself in that aspect."
All of these second-half-of-August musings by one of the Jets' resident rappers sound great but we won't have anything to go by to back up the words until September arrives. But isn't that how it is for every NFL player and team at this time of year?
For now we'll leave you with Bell's view of whether he's feeling that date with the Bills
"I know everybody's eager to watch me play, and I'm eager to play," he said. "Everybody knows I'm being patient, and that's what I'm doing. I'll wait till Week 1 comes, and when it counts, I'll be out there giving it everything I've got."