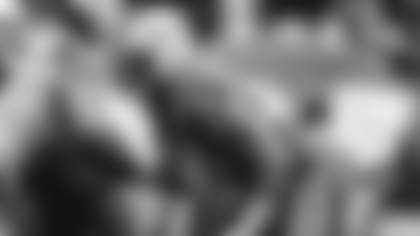 Defensive lineman Henry Anderson is fully embracing his new pass-rushing role on the Jets defense and he's producing. Anderson has already posted a career-high 2.5 sacks, which is tied for second on the team with outside linebacker Jordan Jenkins.
"It's kind of giving me a little more freedom to when I'm in there," Anderson said of the defense on Inside the Jets with Eric Allen and Erik Coleman. "I can kind of fire off the ball, get up field and try to wreak havoc in the backfield. I've enjoyed the role and what it entails and I'm definitely looking forward to working with these guys up front."
In four seasons with the Colts, Anderson was an every-down player, which made him feel less effective on third down as a rusher because he was gassed at times. As a member of the Green & White, the Stanford product said the coaching staff has carved out a specific role for him.
"With the rotation we have, I'll usually be on the sideline for first and second down, come in on third down fresh and ready to go," he said. "I just feel like I can move at a different speed than the person I'm lined up across from. It's been different, but the rotation we have has helped a lot."
The 2015 third-round pick said although he's come a long way as a pass rusher, he still has a lot to learn as he continues to perfect his pass-rushing craft.
"My rookie year, I was a terrible pass rusher. I was really bad," Anderson said. "My senior year in college I had 8.5 sacks. I had a lot of success in college rushing the passer. In the league, offensive linemen do a lot of crafty vet stuff that you don't really see at the college level. Their punch is different, their sets are different and I'm still getting used to it."
The 6'6", 210-pound Anderson has been a key contributor to the Jets defense since joining the team on the third day of the draft when GM Mike Maccagnan sent a seventh-round pick to the Colts in exchange for Anderson. Anderson was sitting on his couch playing videogames when his phone lit up with an incoming call from Colts GM Chris Ballard.
"It was weird because one second you're thinking you're going to be in Indy for the next year and all of a sudden you get a call and your whole life changes pretty much in an instant," he said. "It was definitely weird. It's a tough part of the business, but he and I both thought it would work out better for me and I was grateful for the opportunity."