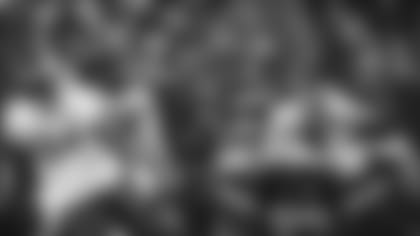 We know a bit about Zach Wilson from his time with the Jets in the offseason and in this training camp. And we may have learned a little more about the first-round rookie quarterback's approach to his new job with the way he handled himself after Saturday night's Green & White Practice at MetLife Stadium.
Zach was cool, calm and under control answering reporters' post-practice questions. But he wasn't happy.
"Not great," Wilson said of his first showing in front of fans in his new home office in East Rutherford, NJ. "I had high expectations for myself and this offense. I've got to lead these guys. ... I'm going to go back to the film room and learn what I can learn."
Head coach Robert Saleh wasn't as tough on his quarterback as his QB was on himself.
"This was Zach's first time in front of the fans at MetLife, his coaches off the field — his coordinator up in the box, his quarterbacks coach on the sideline, no one to talk to," Saleh said. "To have that first experience here and go through it all, this was priceless for him. He had some good moments and he had some rookie moments."
Wilson and his offense had their struggles in their six series in the 11-on-11 portion of the practice. The first possession went five plays with one first-down completion, to RB Ty Johnson. Then came three 3-and-outs and a two-play that ended with CB Javelin Guidry making the interception.
Finally, Wilson and the offense broke through for some points. He directed a 14-play, 59-yard march on which he completed his first four passes to move into the red zone. Then things stalled at the 11 and Matt Ammendola came on for a 28-yard field goal.
Last came the two-minute period to end practice. Wilson had one series, which eight plays from his 25 to the opponents' 37. But his fourth-down needle-threader for Jamison Crowder was deflected by S Lamarcus Joyner into the arms of diving LB C.J. Mosley just before the ball hit the turf.
Candidates for his nicest throws of the night came on these last two drives: a first-down 16-yarder over the middle to WR Jeff Smith, followed three plays later by an 11-yard third-down conversion hookup with WR and fellow rookie Elijah Moore, then back-to-back longer hookups for a combined 37 yards with WR Corey Davis and Moore in the two-minute.
"It's just part of the process," Wilson said of his unit's struggles and his picks. "We're all learning. I've got to make some better decisions. But I know I'm learning from all this. There's a reason we do all those things and now we have to clean it up."
Saleh said he didn't think the playcalling chain — going from hearing the playcall in the huddle directly from coordinator Mike LaFleur in training camp to getting the plays through his helmet headset in the practice — contributed to the lack of yards and points.
"I think it's always that way when you don't know what the call is, when you're building that relationship with the coordinator. That takes time," the coach said. "The biggest thing for him is this was under the lights, there was a crowd. I'm sure the young man wanted to do his absolute best. There's a lot of things he can take from this one. It'll be awesome to see him grow from it."
And while Wilson may have been down over his MetLife debut, he was hardly out. The second pick of April's NFL Draft knows he's got five more weeks of practices to get ready for the games that count, beginning opening day, Sept. 12, at Carolina.
"It's exciting for me to be in the stadium for the first time and getting acclimated with that," he said, setting his jaw. "What happens on the field happens on the field. We'll be ready for week one."