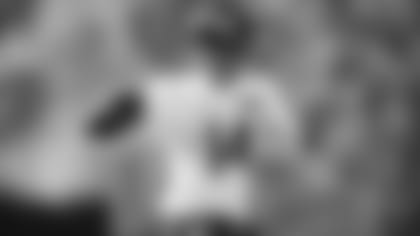 Jets QB Sam Darnold is chomping at the bit after an 11-for-32, 86-yard, four-interception performance against the Patriots on Monday Night Football.
"I was super eager to get back out there and just practice," Darnold said. "Getting back out there and practicing with the guys, that's how you get over losses like that. For me, it's about continuing to learn from that, my mistakes that I made in the Pats game. Learn from it and have those mistakes not pop up again."
The second-year signal-caller said his teammates have been lifting up his spirits all week, particularly RB Le'Veon Bell, who expects Darnold to bounce back. Safety Jamal Adams also expects a rebound performance from his quarterback after a five-turnover game that included a viral mic'd-up clip where Darnold said he was "seeing ghosts."
"For me, I was able to get over it on my own," he said. "I think having [Kurt Warner and Brett Favre] talk about the clip that was aired live definitely cleared my mind a little bit. But getting over a loss like that, getting back here and watching the game, right there when I started watching Jacksonville film, I was done with it. I was over it. That's how I have to look at things and that's what I did."
Per NFL Next Gen Stats, the Patriots blitzed on 16 of Darnold's 33 dropbacks (48%), the most by a Jets opponent this season. New England often had a free rusher and caused the 22-year-old to throw the ball early. In fact, three of his four interceptions came on extra-man rushes. In a copycat league, Darnold expects more teams to do the same until he proves he can stop it, saying, "It's up to us to make a team pay if they want to bring the house."
Darnold took the blame for the Week 7 loss because of not executing the game plan, which made him "sick to his stomach." Moving forward, the Green & White have to be more consistent taking what they've put on the practice field into the games.
"I'm going to go out there and do my job to the best of my ability," Darnold said. "We're going to execute, there's no doubt about it. Like I said, it's about bouncing back. We've practiced really well this week, we just have to go out there and make it happen on Sunday."
After having the nail on his left big toe removed earlier this week, the 6'3", 225-pounder only participated in individual drills Wednesday but practiced full on Thursday as he's wearing extra padding and different cleats.
"I feel really good out there," he said. "[Thursday] was awesome, I didn't feel it all. If I'm like that on Sunday, which I know I will be, it's only going to get better from here. I'm excited about Sunday and not worried about my foot at all."
Darnold is preparing for a Jags defense that he struggled against last year and completed 50% of his passes for 167 yards and one touchdown while tossing three interceptions.
"Jacksonville is always tough, they're always a tough defense," he said. "They always have a great front, Calais [Campbell] is a beast up there, so we always have to handle him and figure out different ways to block him and all that kind of stuff. But we'll be ready."
See Top Photos from the Practice Field Leading Up to the Trip to Jacksonville