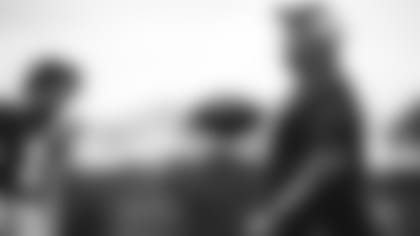 After spending 14 years playing for the Steelers and one year as a coaching intern, Hines Ward has no doubts about lining up across from his former team on Sunday when the Jets play Pittsburgh at MetLife Stadium.
"I'll always bleed black and gold," Ward said. "I've done great things there during my football career. I won a couple of championships and the city of Pittsburgh has treated me so great, but I still want to beat those guys. I want to go out there and win and help our team pull out the W. It will be a little bittersweet. I'm thankful for the opportunity to play for the Pittsburgh Steelers, but I'm also thankful for the Jets for giving me an opportunity to coach and to start my career in coaching. That will be the only time I root against Pittsburgh is when we play them, but hopefully we can find a way to pull out the win."
A two-time Super Bowl champion, Super Bowl XL MVP and a four-time Pro Bowler, Ward looked to extend his NFL experience by becoming a coach after his playing career ended. The former third-round pick out of Georgia is Pittsburgh's career leader in receptions (1,000), receiving yards (12,083) and touchdown catches (85).
"It's been great," Ward said of his new coaching role. "It was always something that I've wanted to do once my football career was over as a player. I just feel like I want to share so much knowledge that I've had over the 14 years playing in the NFL. I want guys like Robby [Anderson] and [Jamison] Crowder and those guys to really experience everything that I got out of football. Being able to come out here and help these guys in coaching not just on the field, but off the field as well, I just thought it was a dream come true to get that opportunity."
Under Ward's tutelage, WRs Anderson and Crowder have both played key roles in the Green & White's offense, establishing themselves as reliable receivers for QB Sam Darnold. Anderson, 6-3, 190 pounds, has 47 receptions for a team-leading 729 yards and 4 TDs. Crowder has 66 receptions for 707 yards and 5 TDs.
Ward hopes to help elevate the offense — especially the receiving unit — against the Steelers.
"Always have a positive attitude, and when you come to work, always work on something," Ward said. "Even the 14 years of having success on the football field with all of the accolades, I still had the mind-set that I could get better each and every day I took the field. So, nailing that into their brains of always getting better and always working on something."
He added: "At the end of the day, all any player wants to do is get better. And if I can help these guys get better and improve on something in their game to help them go out and produce on Sundays, that's what it's all about."