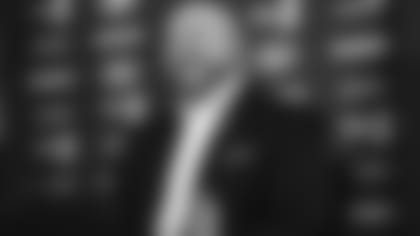 Throughout the offseason, NewYorkJets.com reporters Eric Allen, Ethan Greenberg and Randy Lange will each give their predictions to a series of questions regarding this year's Jets.
Today's question: How do you think Joe Douglas will approach Day 2 and Day 3 of the NFL Draft?
EA: As we sit here mid-Friday afternoon, the Jets are scheduled to pick once on Day 2 of the NFL Draft. Douglas sits in an advantageous spot early in the second round because only the Jasonville Jaguars own a pick ahead of Green & White. But will the Jets stay at 34 or move down to acquire some more capital? I think when Rounds 2 and 3 come to a close, Douglas will end up selecting more than one time. A lot of good players remain and this is a sweet spot early in the draft. Douglas said he's open to any discussions on the trading front and we saw that Thursday. He thought it was a unique opportunity to get a top-10 player on the Jets' board in USC's Alijah Vera-Tucker, so he was aggressive in moving up nine spots in the multi-pick swap with Minnesota. Douglas is committed to fortifying that O-Line as the Jets took an offensive lineman in the first round of the draft in consecutive years for the first time since 1977-78. I believe the Jets will continue to build in front of and around Douglas' first pick in 2021, No. 2 overall selection Zach Wilson. In the short-term, the Jets GM holds the cards at the top of Round 2. Whether he stays at 34 or not, I think the Jets won't be done early in the night. And Day 3 will be extremely critical as far as developmental players, adding depth and immediate contributors on special teams.
EG: There are a number of directions GM Joe Douglas could go. He said he's open to any discussion about trades, so let's start at 34. If the Jets move down from 34, they'd probably make up for some of their lost picks that they traded to Minnesota when they moved up for Alijah Vera-Tucker. But with two fourth-, fifth- and sixth-round picks on Day 3 and 11 picks in next year's draft, I could see the Jets trying to move back up into Day 2 if they stay put at 34. There are plenty of talented players that would fit needs for the Jets at the top of the second round, such as Notre Dame LB Jeremiah Owusu-Koramoah, RB Javonte Williams and CB Asante Samuel Jr. It also wouldn't surprise me if the Jets added up front with an edge rusher like Azeez Ojulari or a WR like Elijah Moore. I believe Douglas will address most, if not all, of the positions I mentioned, but when in the draft is another question. I think Douglas will continue to navigate and be active. Last year, he moved down in the second and fourth rounds and traded a late-round pick for a player (CB Quincy Wilson).
RL: I wouldn't be surprised if Joe Douglas and the Jets traded down, either with tonight's second-rounder or with some combination of 1-for-2 or 2-for-3 picks on Saturday. That would likely bring the pick total back to 10, where it was before Joe D saw a top-10 talent in G/T Alijah Vera-Tucker sitting there at No. 14 and had the draft capital to package up for Minnesota and then go get him. If no trade, I would expect the Jets to spend their remaining picks evenly between defense and offense. Robert Saleh's D needs some love, not to mention talented bodies, after his offense got the first two picks of the draft. But the offense isn't a done deal either. Bring a 4/5, 5/4 or 5/5 split in for the start of this new era of NYJ football. Sure, it's not easy to find Day 1 or 2 talents on Day 3. But culture changers, not to mention special-teams prospects, abound up and down the draft and Saleh surely could use a few more before he and his staff get down to coaching the entire roster up this offseason and preseason heading toward the 17 games of the 2021 regular season.