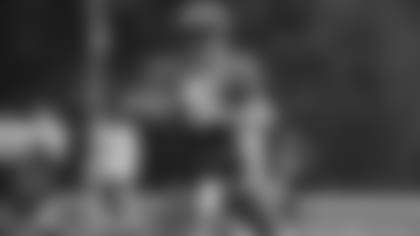 Throughout the offseason, NewYorkJets.com reporters Eric Allen, Ethan Greenberg, Randy Lange and Olivia Landis will each give their predictions to a series of questions regarding this year's Jets.
Today's question: Which matchup can the Jets exploit vs. Broncos?
EA: Joe Flacco is a veteran passer who is going to set up shop in the pocket. During the first quarter of their season, the Jets have scored five offensive touchdowns, and three of those TDs came as a result of Sam Darnold's athleticism and improvisation. In Week 2 (49ers) and 3 (Colts), Darnold made wonderful plays to evade pressure before connecting with Braxton Berrios for scores. His 46-yard scamper against the Broncos in Week 4 was an amazing individual effort, escaping a sack, juking a defender in the open field and sprinting by stunned Broncos defenders for the longest run by a QB in franchise history. Flacco isn't making those plays, but he can be successful nonetheless. Like Darnold, he has a big arm. And Cool Joe is a giant at 6-6, 245 pounds who will have natural throwing lanes because of his height. The benefit of practice this week was that Flacco handled all the reps with the first team, so he and Head Coach Adam Gase had time to talk about his comfort with specific plays in the game plan. The Jets are getting healthier at the skill positions around the QB and Flacco should benefit from the expected returns of RB Le'Veon Bell and WR Vyncint Smith. If the Jets can protect him, Flacco will consistently find the open target.
EG: I don't think the offense will look a lot different with Joe Flacco under center. Head Coach Adam Gase said that Flacco and Sam Darnold have similar arm strength and can make the same throws. Darnold, however, is more mobile than Flacco, 35, so I'd imagine Flacco will do most of his work from the pocket. He'll be protected by an offensive line that could be without Mekhi Becton, who has not practiced this week after hurting his shoulder against the Colts. The Jets could receive some offensive reinforcements in RB Le'Veon Bell and WR Vyncint Smith, who were designated to return to practice earlier this week. Bell, if activated from injured reserve, could help Flacco in both the run, pass and pass protection. Establishing a ground attack would open up the pass game, which would, in theory, help Flacco, who heard his first play call from Gase against the Broncos because he missed all of training camp. Smith is a burner, who could stretch the field if he's activated from IR. Gase said that Smith reached "high speed" in Wednesday's practice and when Flacco stretched the field with WR Torrey Smith, who averaged 16.9 yds/rec with the Ravens from 2011-14. I think the offense could look different because of the players who could return to the lineup, not because Flacco will start at QB.
RL: Adam Gase said this week that the look of the Jets offense shouldn't change much on Sunday since new starter Joe Flacco and injured Sam Darnold "have similar arm strength and all those types of things." The career numbers suggest Flacco won't be running upfield as much, and, except for his eight games at Denver's helm, he hasn't been sacked as much. We don't know how much freedom Flacco will have in pushing for receivers he's comfortable with, but in his career he's played pitch-and-catch with good-hands TEs such as Owen Daniels, Dennis Pitta and Benjamin Watson, so might Chris Herndon and Ryan Griffin come into play on Sunday more than they did in the first four games? The running game may look different if Frank Gore and La'Mical Perine are joined by Le'Veon Bell back in action, and waiver pickup Ty Johnson suiting up. Final thought: OC Dowell Loggains said that Flacco, from South Jersey, "definitely has a Jersey toughness and a Jersey edge to him." We're not sure how exactly that will translate, but to this Jersey guy it sounds like something worth watching.
OL: With 13 years of NFL experience, QB Joe Flacco has the ability and résumé to make an impact on the Jets' offense. QB Sam Darnold sustained a shoulder injury against the Broncos last week, giving the veteran his first opportunity to start for the Green & White. Although Flacco spent the majority of the offseason rehabbing from neck surgery, he believes he still can play at a high level. "I think I have a lot left," Flacco, 35, said this week. "I want to go out there and I want to show my teammates that I can play, and I want to be there for them." Flacco has won the NFL's biggest prize and was named the MVP in Baltimore's victory in Super Bowl XLVII. His experience and leadership will provide a different look on offense as the Jets seek their first win of the 2020 season.