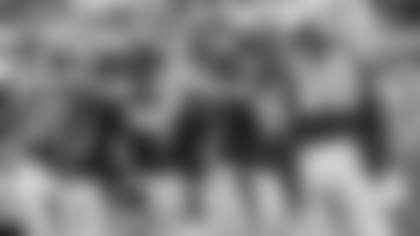 Throughout the season, NewYorkJets.com reporters Eric Allen, Ethan Greenberg, Olivia Landis and Randy Lange will each give their predictions to a series of questions regarding this year's Jets.
Today's question: What can the Jets spoil the Steelers' playoff hopes?
EA: While the Jets can certainly play spoiler, that clearly was not the focus in the locker room this week. Safety Jamal Adams said he'll treat these next two games like they are playoff contests, and former Steeler RB Le'Veon Bell added that he is merely happy to be playing again and feeling healthy after a year off. Linebacker Brandon Copeland talked about guys' livelihoods being on the line and Adam Gase expressed to me the importance of finishing with a winning record at home, so I don't think Pittsburgh's postseason picture is providing the team any extra motivation. With all that being said, let's talk about the recipe for a victory. Make every drive end with a kick. The Steelers live off turnovers, so don't make life any easier for rookie QB Devlin (Duck) Hodges. This Pittsburgh defense is elite and while the Jets probably will favor a short-passing game, they can't let T. J. Watt and Bud Dupree get free off the edges. With ballhawks lurking, Sam Darnold doesn't have to force the action. Expect the Jets defense to bounce back keeping James Conner in check should be priority No. 1. In a close game, special teams could be the difference and both of these clubs have strong units.
EG: Win. The Jets should force Steelers QB Devlin Hodges' to throw the ball. Hodges threw 4 interceptions last week against the Bills. Jets coordinator Gregg Williams said that his defense has a chip on its shoulder after the Ravens ran for 218 yards last Thursday, the most the defense has allowed this season. Pittsburgh's Pro Bowl RB James Conner has played in nine games this season and rushed for 432 yards and 4 touchdowns. The Jets are still No. 1 in average rushing yards allowed per attempt (3.3) and No. 2 in rushing yards allowed per game (88.8). The Jets are healthier in the secondary. Jamal Adams said the chance he plays is "very high." Cornerbacks Arthur Maulet (calf) and Brian Poole (concussion/ankle) were limited in practice all week and are questionable for Sunday's game. The Jets should challenge Hodges to beat them through the air. He hasn't thrown for more than 212 yards and 1 TD in a game this season.
RL: Whether the Jets are treating this game as if they're spoilers (the popular notion) or as if they're in the playoff hunt (Jamal Adams' spin), the upshot is the same: to help spoil the Steelers' playoff hopes, beat them at MetLife on Sunday. That sounds like a tall order, considering the Jets are 5-9 and the Steelers 8-6 and an essentially neutral field figures to lie ahead when the Black & Gold fans fill the stands alongside the Green & White faithful. But in three of the last four games in the Meadowlands, the Jets have defeated Pittsburgh. In 2003, it was the Curtis Martin snow game, in '07 the seven-sack OT blitzing of Ben Roethlisberger led by DT Dewayne Robertson's 2.5 sacks, and in '14 S Jaiquawn Jarrett's career game, once again vanquishing Big Ben & Co. So this year, the Jets should do a casting call from all three playbooks. Who plays Curtis? That's easy. Le'Veon Bell said he's got no animosity toward his old team, but maybe it would feel good to bust out with his first 100-yard rushing game as a Jet and simultaneously boost Sam Darnold and the play-action passing game. The D-Rob role? Former Steeler Steve McLendon is another natural but the D-line can pass the script around among first-round pick Quinnen Williams (if he plays), undrafted rookie Kyle Phillips, et al., in the front line. And now-two-time-Pro Bowler Jamal Adams in his expected return from an ankle injury is a step up in class from Jaiquawn but the effect can be the same: at least one sack (two for the NFL's DBs sack record), two picks, a fumble recovery and double-digit tackles. Fill in around these guys with Robby Anderson and Jamison Crowder on offense, Jordan Jenkins and Marcus Maye on defense, another big special teams showing led by Braxton Berrios and Vyncint Smith returns, and voila, Jets "playoff hopes" rise and Steelers' hopes go on life support.
OL: While the Jets can play spoiler to the Steelers' playoff hopes, I think the most focus will be on the battle of the defenses. Pittsburgh's unit is ranked No. 4 in total yards allowed per game, No. 11 in rushing yards allowed per game, No. 5 in passing yards allowed per game and has a couple of ball hogs in S Minkah Fitzpatrick (5 INT) and CB Joe Haden (4 INT). QB Sam Darnold and the Jets' offense will need to establish the run if they want to find success and use former Steelers' RB Le'Veon Bell (676 yards this season). Gregg Williams' unit can also make an impact on the game with a No. 2 ranked rush defense, containing RB James Conner & Co. Each defense is likely to have a huge impact on the game's outcome, the Green & White's final home game of 2019.