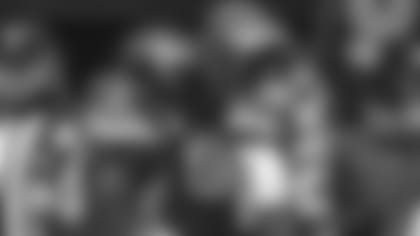 Throughout the season, NewYorkJets.com reporters Eric Allen, Ethan Greenberg, Olivia Landis and Randy Lange will each give their predictions to a series of questions regarding this year's Jets.
Today's question: How can the Jets extend their winning streak to four games?
EA: The Jets have done a good job all year ignoring the outside noise and that's a credit to the players and the coaching staff. While the locker room is full of confident and loose guys, I don't get the sense that this group is overlooking the winless Bengals. Cincinnati's move back to Andy Dalton at quarterback early this week got the attention of the Green & White because the nine-year veteran has seen a lot of things thrown his way and he is a prideful passer who still can be dangerous. The Bengals can certainly win this game, but the Jets are the better team and are playing their best football of the year. They've improved each week during this three-game win streak and should grab another victory if they play complementary football and break even in turnovers. The Jets are on the ascent and don't be surprised if they record their best rushing effort of the year, while the defense continues to bottle up the run and gets after Dalton.
EG: Follow the blueprint of Weeks 10-12. It may seem simple, but the Jets are playing well right now. Offensively, they're averaging 365 yards per game, which ranks 10th in the NFL over that span and they're scoring 2.44 points per drive, the fourth-best mark in the league. More important, the Jets are protecting Sam Darnold well and giving him time. Darnold has been sacked five times over the last three games compared to 18 times in his first five starts this season. It also helps that Darnold has been at his best in November and ranks in the top-10 among NFL QBs in completion percentage, passing yards per game and passing TDs. Defensively, the Jets are stopping the run, forcing turnovers and getting after the quarterback, which is a recipe for success. The Bengals play tougher than their 0-11 record, but the Jets are fully capable of leaving Cincinnati with a 5-7 record after Week 13.
RL: Cincinnati's rankings of 32nd in rush yards allowed/game and 29th in yards allowed/carry suggest it's a good week to have the Jets offensive line lean hard on the Bengals' defensive front and try to get Le'Veon Bell his first 100-yard rushing game since 2017, and thus open up some Sam Darnold play-action passing. Meanwhile, the Jets defense, rising in many categories, needs to press its advantage against the Bengals offense, which unofficially has the NFL's second-worst TD drive rate (12.5%) and third-worst giveaway drive rate (17.5%). Yes, Andy Dalton returns under center for the Stripes after sitting three games, but keep in mind Dalton, entering this weekend, has the league's worst plays/offensive point figure among veteran QBs (4.42). So turning the Bengals over and holding them to two TDs or fewer should serve the Green & White well.
OL: The Jets prescription for success this week is simple: Keep doing what they've been doing during the three-game winning streak. Between Weeks 10-12, QB Sam Darnold and the offense have scored a combined 11 touchdowns and produced more than 1,000 yards of offense, and have only one turnover. On defense, Coordinator Gregg Williams and his unit have racked up 13 sacks, 3 forced fumbles, 3 fumble recoveries and 2 interceptions in the last three game, and have also scored 12 points from two interceptions. Coach Adam Gase and S Jamal Adams said last week that the Jets are playing "complementary football," and it's definitely showing. All signs point to a win in Cincinnati.