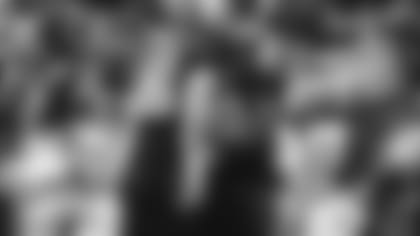 Throughout the season, NewYorkJets.com reporters Eric Allen, Ethan Greenberg, Olivia Landis and Randy Lange will each give their predictions to a series of questions regarding this year's Jets.
Today's question: How can the Jets defense take advantage of Redskins rookie QB Dwayne Haskins?
EA: Styles make fights and this feels like a great matchup for the Jets. Washington would like to play ball control and pound the rock with the ageless Adrian Peterson and the explosive yet unproven Derrius Guice, taking the pressure off rookie QB Dwayne Haskins. But the Jets rush defense is its strong suit plus the expectation is they will also get Neville Hewitt back at ILB. After a bye week, I do expect the Redskins to take some more shots down the field with Haskins. Terry McLaurin can fly and he and Haskins were a dynamic combination at Ohio State, so it will be interesting to see how the Jets match up on the outside. Gregg Williams, who was Washington's defensive coordinator from 2004-07, is going to give Haskins different coverage looks and disguises and the Jets are going to bring the heat. This is a Washington team that has totaled 13 points in its current three-game losing streak and the Redskins haven't scored a touchdown in 13+ quarters. If the Jets can grab any kind of lead early, this is going to be an uphill climb for a scuffling offense finding its way.
EG: Just keep doing what they've been doing. More specifically, emulate what they did against the Giants. I'd assume the Redskins will want to run the ball to take the pressure off of their young QB, who will be making his second start Sunday. If the Green & White bottle up RBs Adrian Peterson and Derrius Guice and set Washington up with third-and-long, they can pin their ears back and get after Dwayne Haskins. For the season, the Redskins rank 31st in third-down efficiency, converting 24.2% of their attempts. They also rank last in the league with an average of 12 points per game and could be without both RB Chris Thompson and WR Paul Richardson, who are tied for second on the 'Skins with 27 receptions. While I don't expect the Jets to hold the Redskins RBs to 1-yard like they did against Barkley, if they can stop the run, they'll have a good chance to get their third win of the season.
RL: We know the Jets' run defense will be ready for Adrian Peterson and the Washington ground game, maybe not at the 1.35 yards/carry they allowed the Giants but still strong. It's hard to say the pass rush is squared away, even with 10 sacks the last two games, but it will be tempting to blitz Haskins, considering he's the third-most-frequently sacked (every 15.4 pass plays) among all NFL QBs with at least 15 dropbacks this year. (The 'Skins' Colt McCoy is first at 18.2 and the departed Luke Falk is second at 18.0). But if Jamal Adams, Jordan Jenkins and the Jets don't meet at Haskins' sternum frequently enough, he has shown accuracy in his early going and the one thing the Jets defense with their banged-up corners didn't do well vs. the Giants was blanket coverage, as Daniel Jones' four TD passes and no INTs might suggest. Despite Terry McLaurin outstanding rookie season, the Redskins have the ninth-least yardage among wideouts (925 yards), third-least yards/catch (11.1) and second-lowest YAC average (2.6). Is this the game to mix coverages more than usual, create indecision in Haskins' reads and pick up the Jets' first interception(s) in four games? I vote yes.