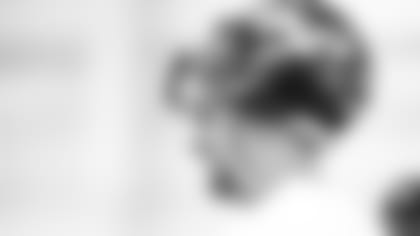 Henry Anderson, a Stanford product, didn't need a chemistry textbook to tell him what could lie ahead for him with the Jets' coaching changes this offseason. After all, the Colts traded the defensive lineman a little more than a year ago because he didn't fit in their 4-3 scheme, and he enjoyed a career year in the Jets' 3-4.
Now with Adam Gase coming in as head coach and Gregg Williams as a coordinator known to instill 4-3 approaches, he knew more personal change could be ahead.
"I feel like I can excel in any type of scheme because I feel like I have pretty good technique and I've got pass-rush ability," Anderson said this week, not only of the Jets' decision to stay with the 3-4 base but also of how he might fit into it. "I don't know if I was relieved, but it was definitely interesting when I came here and talked with Coach Williams about what we were going to be doing on defense.
"We're definitely going to be mixing it up a lot. I think once he continues to see what guys can do in practice and how he can best utilize different body types in different styles of play, he'll install different personnel packages. I think that's one of the things he's good at as a D-coordinator."
Anderson's also noticed Williams' coaching personality, which he said in his experience is "pretty unique."
"Yeah, it's contagious. Coach Williams definitely brings a lot of passion and energy every day," he said. "Sometimes we're in there, you know, a little half asleep and he comes in there yelling. Out there on the practice field, he's definitely a loud, vocal guy. And when he talks, he's a good speaker and motivator."
Anderson, entering his fifth NFL season, may be working with a new DC but he's also meshing with now old friends on the Jets' D-line, which also helps with emergence of a new, improved group identity.
"I think 'Goose' is a great guy. We've definitely grown to become better friends on and off the field," said Leonard Williams. "Overall, I feel like the team has been doing a great job of coming together off the field. We've been doing a lot more activities together. D-Line and outside linebackers are always doing stuff together like going paintballing and messing around. I think building that chemistry goes a long way on the field."
"It's good for us because we're trying to instill a new culture especially on the defense," Anderson said. "We're trying to bring some new energy and a different style of play. High energy, really passionate is what we want to be every day. So I think it's good, especially with this new coaching staff and guys trying to buy into this new culture."