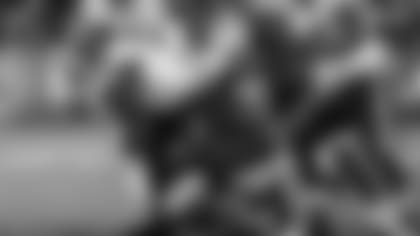 It's a testament to Henry Anderson's approach to playing football and being a Jet that he was close to setting one franchise record and tying another in a completely different category and still wanted to talk about how close his defense and his team came to posting another comeback win Saturday at MetLife Stadium.
"It was frustrating just because we feel we let up a few big plays here and there," Anderson said after the Jets' 29-22 loss to the Texans. "I feel like we were able to shut down a really high-powered offense for most of the game. But yeah, when we needed a stop there at the end, we couldn't get it. I've got to see that holding call on film [against CB Morris Claiborne], but I know that could've gone either way. It's just tough that we couldn't close it out there at the end."
Anderson couldn't close out his two record-book pursuits, either, but it wasn't for lack of trying. The blocked-kick streak, we knew about. With a blocked field goal and extra point the previous two games, he needed one more to become the first Jet with blocks in three consecutive games and the first NFL player to do that in 11 seasons.
"I forget when exactly it was, but we had a block where we were swimming inside and I felt like I got pretty close," he said. "But their interior was pretty stout on field goal block. When the dudes you're going up against have pretty good technique, it's hard to get a block there, so they did a good job."
The other distinction was a sudden development and would have put him on a pedestal with the likes of the top pass-rushers in Green & White annals. After the fourth-year pro got his third sack of Deshaun Watson on the first series of the third quarter, he needed only one more to tie the franchise mark of four sacks in a game, officially (since 1981) done three times in the early Eighties by Mark Gastineau and equaled only once since, by John Abraham in 2003.
"Goose" almost got it, too, but he arrived just a little too late and LB Brandon Copeland did the honors.
"If I had turned the corner, I would've gotten that one, but it was good to see 'Cope' get that," he said. "And there were other dudes on the other side who were doing a good job of flushing him in to me, so I kind of owed them one."
Teamwise, the Jets had six sacks of Watson, their most in a game since taking down then-Bills QB Tyrod Taylor seven times at MetLife last year, and the 55 yards of sack losses were the first in a game since sacking Miami passers six times for 60 yards in 2009.
But the 9-4 Texans have baked Watson's sackability into their cake — he was the second-most-sacked QB in the NFL heading into the game. What the Jets needed was a stop on Houston's final TD drive to retake the lead, 26-22. And despite holding Houston to 47 rushing yards, 286 total yards, 15 first downs and 1-for-9 on third downs, they didn't have that answer.
"They were in some bigger personnel groupings on that last drive, they had some extra dudes staying in blocking, so it was a little bit harder to get back there to the quarterback," Anderson explained. "But we have to continue to stay after it, go out and execute and we didn't do that. As a defense, if we want to go the places we want to, we've got to step up and get a stop in that situation."
How soon can the Jets be that defense? Must they wait till next year, or might that unit show up next week against Green Bay and Aaron Rodgers or the final week at New England and Tom Brady? Anderson was optimistic.
"We have the dudes to do it. It's just a matter of going out and executing, trusting your technique, trusting the coaching that you've gotten throughout the week, and trusting the game plan," he said. "We'll have a good game plan going into next week, so we've just got to have a good week of practice. We have an extra day of rest this week, so hopefully we can go out and do a good job and get a win next Sunday."
Images from the Week 15 Matchup at MetLife Stadium