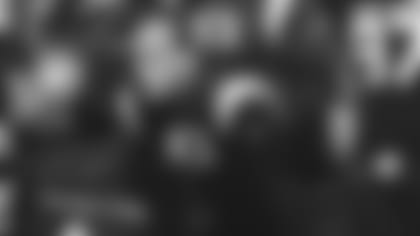 As the Jets prepare to face the AFC East-leading Buffalo Bills at MetLife Stadium on Sunday, they have focused on Pro Bowl QB Josh Allen and his arm – but also his legs.
Since the Bills selected Allen No. 7 in the 2018 draft, the Wyoming product has been one of the best dual-threat quarterbacks in the NFL. This season, Allen's 306 rushing yards are No. 4 among quarterbacks, he has thrown for league-leading 2,329 yards and is No. 3 with 17 touchdowns passes.
"Allen stands in there and people just bounce off of him," HC Robert Saleh said. "He can make every throw. He can work off-schedule. He can work on-schedule. He is arguably one of the best quarterbacks in football right now."
DL Quinnen Williams and CB Sauce Gardner compared Allen's rushing ability to going against Ravens QB and perennial dual-threat Lamar Jackson.
"Playing a quarterback like that is similar to playing a guy as electrifying as Lamar Jackson earlier in the season," Williams said. "It is hard playing against a quarterback like that. Especially a guy that can throw the ball with a great arm like him and run the ball as elite as him."
In Week 1, the Jets held Jackson, the 2019 NFL MVP, to 17 yards rushing on 6 attempts, sacked him twice and came away with an interception.
But, unlike Jackson, Allen's size (6-5, 237) presents a unique challenge. Allen has rushed for 207 yards after contact this season according to PFF, more than a third of his total.
"He is bigger," Williams said in comparison to the NFL's other dual-threat QBs. "He is huge. He is like 6-5. He can stiff arm, can run the ball, can jump, can hurdle, He is basically a running back that can throw the ball."
The Bills are second in the NFL in scoring, averaging 29 points per game, thanks in large part to Allen's ability to create explosives with his legs, but more notably his arm.
Allen has averaged 8.3 yards per pass attempt this season, and completed a 98-yard touchdown pass in Week 5 against the Steelers.
"He is good man," Williams said. "He is an elite quarterback, especially when he throws deep balls. Super powerful. Going against him is going to be a big challenge."
To prepare, the Jets defense has focused on executing and limiting mistakes.
"We need to be focusing on ourselves," Quinnen Williams said. "Focus on the small details as a team because he likes to exploit the small details. He will catch you slipping."
LB Quincy Williams added: "You have got to capture his arm and the ball. I had him wrapped up and running to the sideline last year, but he still threw a touchdown. You got to home in on finding the ball. And when he takes off running, you got to treat him like a runner."
Allen threw for four touchdowns and an interception, and ran for 66 yards in the Bills two wins against the Jets last season.
After adding talented playmakers through the draft and free agency, Saleh believes the Jess are better equipped to match up this season.
"We feel good about our defense," Saleh said. "We feel like we have added speed, there is a lot more experience. It is year two, so we are a lot more precise in how we do things. It is still going to be a tremendous challenge."