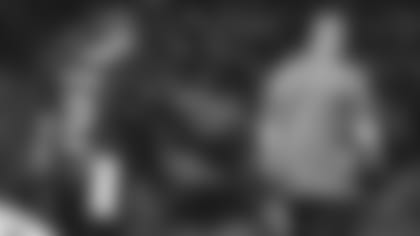 In an exclusive interview last week, the Jets' head coach Robert Saleh spent more than one hour fielding questions from some of the team's season-ticket holders in a spirited conference call. In this second of two parts, Saleh speaks about how he became a defensive guru, free agency, the NFL Draft, QB Zach Wilson ... and more.
Q: You were a tight end in college [Northern Michigan University]. What took you from offense to defense? What made the switch happen?
A: So when I started out, Bobby Williams, the coach at Michigan State was the first one to give me an opportunity as a graduate assistant on the offensive side of the ball. After my first year he was let go. John L. Smith comes in and I'm the only GA and he's defense-minded and he puts me on defense. And the short answer: that's where I've been ever since. Defense became a calling. I fall back on some of that experience I had on offense, and it actually helps me understand what offenses are trying to get done.
Q: How impressed were you by Zach Wilson's improvement throughout the season?
A: You know what, he did [improve], and you expect it. It wasn't anything earth-shattering, but when he got hurt and had to step away for four games and got to watch offense through lens of Mike White, Joe Flacco and Josh Johnson, and we were No. 1 over those weeks, and he got to sit back and really re-evaluate the way he was going through his process. And I think he picked up a lot from Mike, a ton off of Joe. And when he came into that first game [back], the Houston game, which really didn't go well for him, but we won. He really slowed it down, don't get too high or too low, don't put the stress on yourself. With regards to external pressure, just focus on being the best version of you instead of trying to make every single play that he could. Understanding that he just needs to facilitate and get the ball to where it needs to get to. And I thought he made tremendous improvement and he maxed that against Tampa Bay. And of course the ballgame didn't go the way any of us wanted, but I thought his Tampa Bay game was really his coming out party and something he can build off of.
Q: Is Zach still working with John Beck [Wilson's QB consultant]?
A: Yes. We're not allowed to talk to him [Wilson] too much, except for hellos, but he's kept us abreast. He's enjoying his first offseason as a professional player and he's gotten some workouts in with John Beck, he's flying down to Miami to work out with Elijah Moore, Corey Davis and his receivers. [Braxton] Berrios will be down there, too. They're putting in the work and they're just getting together themselves to get some workouts in. I really like where his mindset is at and excited to get him back here in April.
Q: What was done differently between the 2020 and 2021 draft classes?
A: I can't speak for the 2020 draft, I know there's more to it than just looking at this season, that it didn't go the way the group wanted. But there's also a lot of excitement for that group. So you know their story's not done yet. As a collective, it's got to have a good offseason. I thought Ashtyn Davis came on, I think he's going to have a really nice offseason and I think he gets a little bit better. And Bryce Hall stepped in at corner and did a really nice job. Bryce Huff stepped up, an undrafted free agent. And [Javelin] Guidry was a big-time contributor. I know [Mekhi] Becton ... we'll get him back going. So I don't think the 2020 draft story is written yet. It's not even close to it.
When you communicate to the degree that [GM] Joe [Douglas] and I and our staffs are communicating the risk becomes very, very small, the gap and disagreement is small. But when there isn't communication that's when you miss completely. I think I speak for everyone in this organization when I say we have a lot of confidence in the way we do things, our staffs have a tremendous working relationship where they're constantly speaking and watching tape together and I think because of it I feel confident that we'll be able to add some more really good players in this year's draft.
Q: To what do you attribute the success of the 2021 draft class?
A: Last year's draft class was pretty cool in the sense that the character of the individuals that we brought in are as good as any that you can find. You look at Zach Wilson and his love for football; AVT [Alijah Vera-Tucker] who eats, sleeps, breathes football; Elijah Moore same thing, just all the way down the line. Both Michael Carters, [Jamien] Sherwood, Naz [Hamsah Nasirildeen], [Brandin] Echols, [Jason] Pinnock, Jonathan Marshall, I'm sure I'm forgetting someone. But the entire group, from the character standpoint, represent and embody everything that you'd love out of a professional. Their work ethic, the way they study, the way they train, the way they practice, the way they care for their teammates. So, you look for high-character individuals.
Q: On the draft, there's been talk of taking safety Kyle Hamilton [Notre Dame], but a lot of us would like to see a pick on the defensive line. I know you can't give away any secrets, but. ...
A: We speak the same language. If you want the secondary to be better, fix the pass rush. We are really excited about the group that we have and the way that they've been able to evolve and develop as the season went on, you know it's a very young group back there. At the same time, there's so many different places, in regard to offense, defense, there's a million different directions we can go. To pinpoint it to one position right now would be premature, but you're right. Great quarterbacks are neutralized with a four-man pass rush. If you can rush four on even the greatest ones, it's shown time and time again that a great pass rush neutralizes great quarterbacks every time.
Q: What's your assessment of the offensive line?
A: We really like the way George Fant came around and we thought he did a really good job at that left tackle spot. AVT at left guard did a really nice job in his rookie year. I think he has All-Pro potential. [Connor] McGovern really got better as the year went on and really got used to the task that he's being asked to accomplish. Playing center in our system is not easy and he got better as the year went on. LDT [Laurent Duvernay-Tardif] stepped in, I know he's a free agent, but he's a guy we'd love to have back. He stepped in and did a really nice job. But the key here is [Mekhi] Becton. Morgan Moses, we'd obviously love for him to come back, but Becton is a young man working his butt off. He's trying to get back. If we can get him back to where he was when he arrived in training camp when he was a young rookie in terms of health and all the physical attributes that he brings, our offensive line will be pretty darn good. It's something we're always looking at and something we're trying to get better at. I've said it before – you win up front. Offensively and defensively.
Q: What's your approach to free agency?
A: We're going to continue to talk about the culture that we're building, the atmosphere that we're trying to create in terms of everything that we do is for the players. It's all player-centric. We have a young group, we're moving in the right direction and we have an exciting young quarterback that I think people will recognize is going to be a heck of a football player.
From a free-agent standpoint, that's the selling point. You have an opportunity to come here, make a difference and you're in the greatest city in America. You're in New York where all eyes are on you and you have a chance to do something special. When you do something special here, it's pretty cool. I think the New York brand kind of speaks for itself and it's our job to answer any questions they may have and really showcase all the youth and experience we have here.
Q: What would it mean to you to have a home playoff game?
A: It would be unbelievable. To have a playoff game here ... I can only imagine how crazy this crowd would get. I got a small taste of it in the opener against New England, I know it didn't last very long because New England got after us. But I felt it in the Cincinnati game and against Tennessee. I can only imagine when the stadium is full and it's rocking and it's got Jets fans constantly on their feet and they're rolling. I think it would be epic, let's put it that way.