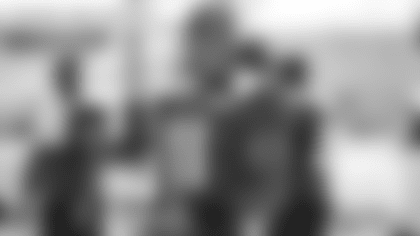 In addition to changing his jersey number from 52 to 11 and position from defensive end to linebacker, Jermaine Johnson added more weight this offseason. HC Robert Saleh expects him to be a handful for opposing offenses in Year 2.
"His body [is going to take him to the next level]," Saleh said. "I don't know if you guys have noticed, but he looks massive, in a good way. He is explosive and very powerful. If you hold a bag, he is very heavy-handed and very powerful. I am expecting him to take a jump this year."
The No. 27 selection in the 2022 NFL Draft, Johnson put together a strong rookie season alongside fellow first-rounders CB Sauce Gardner (pick No. 4) and WR Garrett Wilson (No. 10). Johnson finished with 29 tackles, 2.5 sacks, 5 quarterback hits, 11 QB pressures and a safety after blocking a punt. 
According to Pro Football Focus, among the 62 rookies with at least 300 snaps, Johnson finished in the top 10 in overall defensive grade. Jets first-team All-Pro DT Quinnen Williams said Johnson is off to a fast start this camp.
"Jermaine Johnson just scratched the surface last year in the different things he can do," Williams said. "He's back bigger, stronger, faster and smarter."
Along with the improved physical condition, Johnson has a better grasp of the scheme. Going against four-time MVP QB Aaron Rodgers has pushed him to improve his mental game.
"Just understanding the scheme and being able to play fast," Johnson said about what's different this year. "I have been able to use my God-given abilities and hone them and play with an improved mindset and consistency."
During the first week of practices, Johnson generated several pressures against Rodgers and QB Zach Wilson. On Sunday, Johnson – wearing his No. 11 shirt – beat the opposing right tackle with a powerful move and went past Rodgers for a practice sack.
"It doesn't get better than [Rodgers] just in terms of offensive operation," Johnson said. "His hard counts, the audibles he calls and everything like that. There really is not anyone better than him on the offensive side of the ball. So, to get the hard counts he gives us and the situations he gives us, it is the best practice we can get."
Johnson last wore No. 11 his final season at Florida State and went on to produce 11.5 sacks, 17.5 tackles for loss and 70 total tackles to win the ACC Defensive Player of the Year Award.