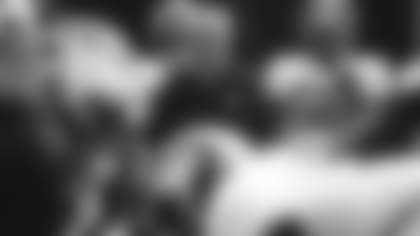 In the Jets' secondary, cornerback is thin to begin with. Now veteran Trumaine Johnson is down with a hamstring and rookie Kyron Brown, playing behind TJ, is also out with a hammy. Brian Poole, brought in to take over Buster Skrine's slot role, has been pressed into some duty on the outside.
Depending on which fans you talk to, corner is either a big concern or a BIG CONCERN.
That is, until you listen to defensive coordinator Gregg Williams.
"Everything's good," Williams said of his DBs after today's training camp practice, warming to the day's theme from reporters. "This is a good group of guys, a good young group."
But what about the injuries, the depth chart?
"Right now, the roster size is the biggest it's ever going to be," he said. "Once we get into the regular season, it's about playing the guys you have. I've been doing that for 40 years, so that's how it is."
This is more than just Williams whistling past the Jets' training room, though. Whatever his private thoughts about the state of his CB depth, his experience over those four decades has led him to develop any number of strategies to deal with situations like this.
"One of the things we do when we first start here in the spring is everybody has to learn one position, but then it's mandatory that everybody has a second position they have to learn. And some of these guys have already pushed on to the third position," Williams said. "That's how you battle the injuries you're talking about, that's how you battle through a game and not have to change drastically within a game. Who's the next man up or the next best athlete we have to have?"
This has led, Williams said, to him plugging a safety in at cornerback "multiple times" over the years, including for New Orleans in Super Bowl XLIV.
Could it lead to S Jamal Adams making such a move this summer, as some, including Adams, have discussed?
"He can do it, no doubt about it. He's a good enough athlete to do that," Williams said, adding, "We haven't even crossed that bridge right now with him because he's learning other positions, too."
Another weapon in the coordinator's arsenal is intensity. There is Williams' own trademark supply, which several assistants referenced today. Said OC Dowell Loggains: "Obviously, Gregg has great intensity, like the rest of the coaching staff. Hopefully the players are feeding off of that juice."
But Williams said the players he's coaching on the Jets have brought their own impressive levels to training camp.
"When we have to worry about the intensity of the players, we have the wrong players. When we have to worry about the competition, the lack of competition in practice or games, we have the wrong people, coaches and players," he said.
"And there has been a smile on my face since I've walked in here. These young men want to compete, whether it's an argument, whether they're playing chess or checkers in the room, anything, they want to compete. I'm there to pull 'em back if they go too far, that's what I'm supposed to be doing. If they won't do that, we've got the wrong people, and you can't win at this level without that kind of competition."
Now might the Jets be exploring adding players at the position even as camp rolls on inexorably toward the regular season? Sure, and that's the domain of general manager Joe Douglas and his staff.
But until then, Williams will continue to test his players in multiple positions, during camp "because of how hard and fast we practice" and in the remaining preseason games. Does he enjoy this challenge?
"That's just part of it, the competition of what we do," he said. "That's another thing about the respect you gain from the players is that they see that not only do they earn the trust of each other but I have to earn their trust, too. They understand I've been around a little while and can do a lot of different things and have seen a lot of different things."
Yeah, Gregg Williams is enjoying this challenge.