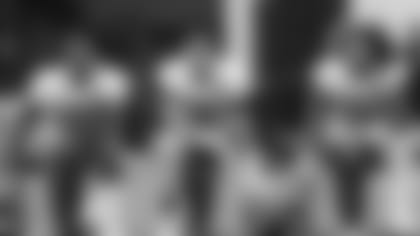 With kickoff less than two days away, the unpredictable nature of Week 1 is imminent, too. But one thing is certain regarding the Jets defense — they're going to bring the heat.
"We're not a reactionary defense, we're an attacking defense whether it be 1-on-1, 11-on-1 or whatever," defensive coordinator Gregg Williams said. "Those are the things we want our guys to do. We want them to play hard and fast. We say faster, tougher, harder for longer than everybody we play against. That's what we want them to do and they've done a great job of adapting to that here."
Williams opened up his Friday news conference saying his unit is excited to play Sunday after a very good week of preparation. All signs point to CB Trumaine Johnson returning to the lineup against the Bills after a hamstring injury caused him to miss most of the preseason. Johnson's presence should bolster a cornerback group that has had a number of alterations.
"I think our guys are doing a good job here," Williams said. "I think the coaches have done very well with them. This staff has been with me in multiple places before. Two of the three secondary coaches played for me. They're doing a good job. We'll continue to adapt to the guys we brought in, and the guys that are here are playing solid. We have to keep them healthy, they're playing solid."
Last season, Henry Anderson and Jordan Jenkins paced the club with seven sacks apiece and the Jets finished tied for 16th overall with 39 QB takedowns behind the line of scrimmage. While both men return, the Jets will have a new outside 'backer across from Jenkins Sunday with Brandon Copeland serving the first game of his four-game suspension. Either Harvey Langi or Frankie Luvu are likely to get the start on the edge.
"I think there are a lot of people here that people are going to be shocked about by the time the season is over," Williams said. "There are a lot better people than everyone keeps crediting. You haven't heard me say one thing about needs in that area. I'm not worried about that area."
New-Look Special Teams
The Jets enter Week 1 with two new special teamers — K Kaare Vedvik and WR-PR Braxton Berrios — and neither have played a regular-season game.
Vedvik adjusted well in practice this week and special teams coordinator Brant Boyer, who's monitored the first-year kicker for a couple years, believes he'll be ready for his regular-season debut Sunday.
"We've put in a lot of work with him. I think guys in the building have a familiarity with him as well," Boyer said. "He's got as talented a leg as anybody in this league. He's got a smooth swing. I think the guy has a lot of potential to be a really good kicker and he's got a really big opportunity here. I think of his maturation process, if he can grow and learn from his mistakes, I think he can do really well in this league, I really do."
While Berrios will line up behind Jamison Crowder in the slot, Gase said the 5'9", 190-pounder will be the Green & White's primary punt returner, a role he served at for the Hurricanes. As Berrios adjusts to his new team, he's taking it day-by-day.
"I'm finding a little more out each day," he said. "I don't know exactly what my role will be going forward. Anything I get, I have to earn and that's what I came out here this week trying to do, just trying to learn my teammates and get them to trust that when I'm out there. Whatever I do, I'm going to do it to the best of my ability and really earn their trust."
See Best Photos from Friday's Practice