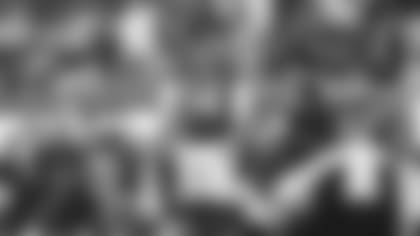 Having won the Jets' training camp kicking competition doesn't change Greg Zuerlein's mentality one iota.
"I don't think there's every any relief, if you can say that," Zuerlein said after Wednesday's practice, his first after Eddy Piñeiro was released the day before. "I'm still going out there and kicking as if there's a guy right next to me. It doesn't matter if there is or is not. What you put on tape is who you're going to be, and just because he isn't here today, it doesn't mean he won't be here the next day. That's' how I go about business."
Business has been pretty good for the man who has gone by several different nicknames over his decade in the NFL. He converted 82.0% of his field goal tries in eight seasons with the Rams, including 33 kicks of 50-plus yards and that including two kicks of 60-plus. In 2017 he was an All-Pro and a Pro Bowler. In his past two seasons with the Cowboys, he hit 82.9% of his FG tries and drew touchbacks on a career-high 80.0% of his kickoffs.
"Greg's a veteran, he's been there, done that," head coach Robert Saleh said. "We went against him when he was with the Rams for a lot of years. His nickname then was Legatron, now it's Greg the Leg, I guess. He's got a big leg, he can kick it from anywhere, over 55 yards, and have plenty of distance."
Both Young G.Z. (another nickname, apparently, although he'll turn 35 in December) and Saleh heaped praise on Piñeiro, who came in last midseason and hit all eight of his FG tries, then pushed Zuerlein all offseason and preseason in a neck-and-neck battle of the insteps.
"Eddy did a great job, too. He's every bit as deserving," Saleh said. "But we had to make a decision and that's the decision we went with."
"That's the nature of the business," Zuerlein said. "Eddy's a very good player. He can play in this league and I think he will play in this league this year. You like to see guys get chances somewhere else. Unfortunately, that's the downside playing in the NFL."
And the upside, as the Z-Man said, is that kickers get to celebrate their successes, but often only a day at a time.
"I don't think anything's ever certain in the kicking business," he said. "For right now, today was a good day. That's all you can ever ask for, really, is one day at a time, and that's kicking."
The Jets would love to get for something a little more durable. When Piñeiro arrived last year, he was the Green & White's 12th different kicker since mid-2015. Whoever won this job was going to be the Jets' seventh different kicker in the last seven seasons.
As the sayings go, Jets kickers recently haven't ordered three-minute eggs, one-hour dry cleaning or green bananas during their One Jets Drive tenures. But Saleh and special teams coordinator Brant Boyer seem to have a feeling about the longevity of their new kicker. Call him Gen Z Plus 10.
"We're really excited about Greg," the coach said. "He's kicked game-winners, he's been through it all. Just to have that veteran presence back there who's reliable is pretty good."
See the Green & White practicing on Wednesday to kick off the fifth week of preseason practices.