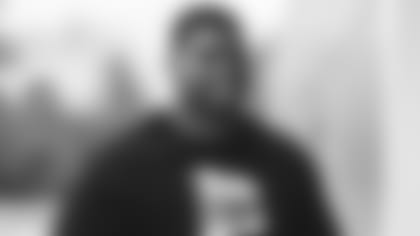 Another building block in Quinnen Williams' rising career was moved into place this week when the Jets' All-Pro defensive lineman signed his long anticipated contract extension on his way to becoming the even more dominant player he knows he can be.
"It means a lot, man," Williams said shortly after signing his four-year extension Tuesday to continue to anchor the Green & White's front four heading into this new season of great expectations, "just to have an organization that drafted you, first of all, see the potential that you have, be a part of this organization to go to where we all know we can go, where everybody wants to go. For them invest in me for the next four years, a huge thanks to them and I'm super grateful for it."
Williams was selected third overall in the 2019 draft and showed sure progress each of his first three seasons before erupting last season. He totaled a career-high 12 sacks — the Jets' first double-digit sacker since DL Muhammad Wilkerson also had a dozen in 2015 — notched 28 QB hits — tied for the most by any Jets defender in a season since 2001 — and received the first Pro Bowl invitation and first All-Pro recognition of his career.
And, Williams told newyorkjets.com's Caroline Hendershot, the best is yet to come.
"I've got a lot of things to accomplish," he said. "I did a lot of good things last year, but there are some things that I know I've got to get under control to be the best player I can be. ... Just small things, like diet is a big thing man. I really want to get a lot of stuff under control so I can finish games on fourth downs, finish games at the end of the year and just be able to be a dominant player."
The man known as "Q" gave credit all around for his progress to this point and his goals ahead. First on the list: head coach Robert Saleh, coordinator Jeff Ulbrich, DL coach Aaron Whitecotton and the defensive scheme, which lifted the Jets to fourth in the NFL in both total yards and points allowed last season.
"Coach Saleh's got a phenomenal defense. He puts us in position to win, and he puts trust in different guys to be able to go out there and be themselves. I just thank him for trusting me to go be myself and unleash the talent and the attributes I have to be the player for the team and the defense that I can be."
Right up there in importance with the scheme are Williams' teammates.
"I'm not out there rushing the quarterback by myself," he said. "You've got Sauce Gardner, who guards the toughest receivers in the country week in and week out, you've got C.J. Mosley, a phenomenal linebacker, you've got Quincy Williams, potentially a future All-Pro and Pro Bowl linebacker. So having a great defense, a great group of guys around you and a great coaching mindset brings the best out of you as a player."
Quinnen also credits Quincy, who happens to be his older brother and who also signed a new deal this offseason to remain with the Jets, for his success: "I get to hold him accountable, he can hold me accountable so we can both pull the potential out of each other that we know we have."
And Williams' first take on the 2023 Jets, who report today for Thursday's first practice of training camp, wouldn't be complete without his first public remarks about the new/old guy now running the Jets offense in QB Aaron Rodgers.
"That was amazing," he said of the trade, completed the week of the April draft, that brought Rodgers from the Packers to the Jets. "Having a quarterback on your team like that is phenomenal for the organization and the team. There's nothing he hasn't seen. When it comes to developing, to teaching, to the experience level that he can give to me and to young guys like Sauce and Quincy ... it brings me back to when I was at 'Bama. Going against super-high-caliber players every day in practice is going to make you a high-caliber player."
One more inspiration for Williams' increasingly high profile in the NFL occurred this offseason when he and his wife, Miranda, became the proud parents of their first child.
"They're like my 'why' now," he explained. "I was playing football because it was fun and because I love being around football. But I have a real why now. ... It just pushes me to a whole 'nother level mindset-wise and a whole 'nother level physicality-wise."