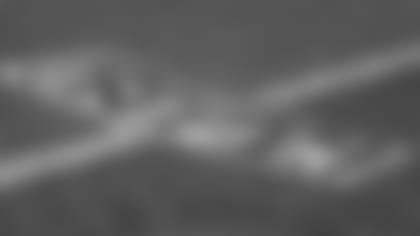 The NFL Annual Meetings are the time of year that the owners vote on rules changes for the coming season, and they had the usual laundry list of yellow-flag changes to vote on this past week. We won't enumerate the new rules here but we wanted to salute the league and its owners for two great calls — one they made and one they didn't.
The rule change that will be instituted for the 2019 season regards replay:
6c. By Competition Committee; For one year only, expands the reviewable plays in Instant Replay to include pass interference, called or not called on the field.
This of course was in response to the non-call of pass interference on the Rams' Nickell Robey-Coleman against Saints WR Tommylee Lewis (who visited the Jets recently before signing with the Lions) that sealed L.A.'s win in the NFC Championship Game.
The league has been understandably hesitant for the last two decades to expand the number of plays that can be reviewed, in the fear that all judgment calls would go under the microscope and the times of games would balloon to well over three hours. Early sentiment in Phoenix was that this proposal also wouldn't get passed, despite the importance of PI calls, both the kinds that can march off 40-plus yards for a single penalty (or not) and the kinds like the non-call in Saints-Rams that decide Super Bowl berths.
But in Jets games alone, the amount of coaches' challenges compared to booth reviews has gone down dramatically in recent years due to scoring and change-of-possession plays being reviewed "upstairs." In Herm Edwards' first two seasons as Jets coach, 2001-02, coaches made 27 challenges in Jets games compared to two booth reviews. In Todd Bowles' last two seasons, coaches made 10 challenges compared to 31 booth reviews.
Challenges of pass interference calls or non-calls will fit smoothly into the coaches' challenge format, with little if any extra time needed for booth reviews of those calls in the final two minutes. And there was a groundswell of fan and media support this offseason to add interference calls to the review menu, not to mention among the owners. Said Jets owner Christopher Johnson:
"There was a game last year that drove me absolutely berserk because of a pass interference situation. ... I'd love to see if that can be rectified, but can it be rectified without messing up the game? I want to see that hashed out, but I'd love to see that fixed."
The rule that wasn't instituted regarded a further tampering with overtime:
7. By Kansas City Chiefs; to amend Rule 16 to ... allow both teams the opportunity to possess the ball at least one time in overtime, even if the first team to possess the ball in overtime scores a touchdown.
Yeah, we feel bad that the Chiefs never got the ball in OT to match the Patriots' opening drive to the game-winning TD in the AFC title game. But the answer is not to turn football into baseball.
Overtime football has been predicated, since the days of the 1920 Canton meeting in Ralph Hay's Hupmobile showroom, on sudden death. The team that scores first wins. And if you don't want to lose and you don't get the ball first, don't let the other team score first. Better yet, don't let the game get to OT.
The NFL bowed to sentiment against this concept with the introduction of the modified overtime rules in 2011 to prevent first-drive OT field goals from ending games as they had since overtime was first introduced into regular-season play in 1974.
The new system is working fine. It's a hybrid that allows relief to teams that yield an opening-drive field goal to an opponent with a big-leg field goal kicker yet preserves the exciting sudden death aspects of the game.
But the touchdown is king in OT and it should remain that way. Any rule change to allow opening-drive touchdowns to be matched will lead to the college football format, which is like extra innings but with a sad twist. It's like playing nine innings of baseball and then deciding a tied game with a home run derby rather than more baseball. Not every sports must end its ties the way baseball or hockey or basketball do.
Bill Parcells often counseled against removing the larger game of football from overtime and we will here again. Baseball season is about to begin and that's great. But let's resist the urge to introduce extra innings to football, as great a sport as there is, including its trademark sudden death overtime rules.