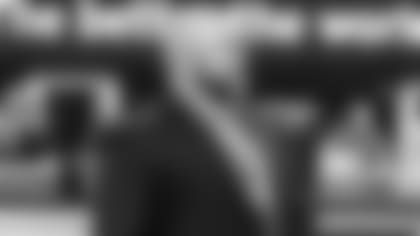 Joe Douglas feels strongly both ways. There is pride in the way the Jets finished the 2019 season "down the back stretch." But there is no delusion that "7-9 is not where we want to be as a team and an organization."
And that comes through with "our plan" that the now second-year Jets general manager articulated this afternoon for the team's beat reporters in his end-of-year news conference.
"So what is our plan? The plan is to create the best culture in sports," Douglas said. "I think the best culture is a self-sustaining entity where professionalism and leadership are transferred from one generation of players to the next. Every great team has that culture, and that's what we're going to try to create here.
"It's going to take people with the right level of commitment, character and confidence. Every person, every player we bring into this building, they're going to be assessed on their fit within our culture and their ability to help us achieve our ultimate goal, which is to win the Super Bowl."
Douglas made it clear how he felt at the way the Jets battled from their first-half struggles to achieve their second-half comeback, and what it means for the team's timeline for the new year.
"I can't tell you how proud I am of the way the players, the locker room, the staff, everyone in this building stuck together. There was every opportunity to roll over, and no one did it," he said. "The work ethic, the passion, there was no pointing fingers. You saw it at practice every day and then you saw it in the back half of the year. Going 6-2 [after starting 1-7], that's not luck, you don't do that. It takes a group of guys that became galvanized and stuck together."
"And what we've got to do is there's a hope — I won't even say 'hope' because hope's not a strategy — the plan moving forward is that is a launchpad for us."
Douglas' springboard as an NFL GM began when Jets owner Christopher Johnson hired him last June, a timing that was vigorously debated in the media and among the fanbase. But Douglas said for him, the timing worked.
"I didn't have to rush through implementing a grading scale change, implementing a new philosophy. i didn't have to try to hit the ground running with all-star games and the combine right around the corner," he said. "So you could really get your processes in place, communicate with the people on your staff about what expectations are, how processes are going to change. We were able to have some exercises in summer getting [scouts] used to the new grading scale.
"Not to bore you with all the details, but there were a lot of benefits from starting when I did."
Now Douglas begins his first full offseason in the GM's office. The big-ticket, high -profile signings and selections are yet to come in free agency, trades and the draft.
"Collaboration is big with me," he said of the Jets' signing process. "At the end of the day, Mr. Johnson's tasked me with making the final decisions on roster moves. But I can tell you there's not going to be decisions that are made unilaterally. There's going to be a lot of inclusion, a lot of collaboration, and we're going to work together to do what's best for the New York Jets."
The plan is that when September rolls around again, this time the Jets will be prepared to use their launchpad to soar to greater heights than just salvaging a 1-7 start.
"I don't think the fans should be happy with 7-9," Douglas said. "I think the fans should be excited, should tip their cap to the way this team stuck together, the way the men in this locker room were able to bond, how they were able to put egos and feelings aside and really come together for the good of the team.
"Our expectation is to build off that and our expectation is to be better in 2020 as a whole."