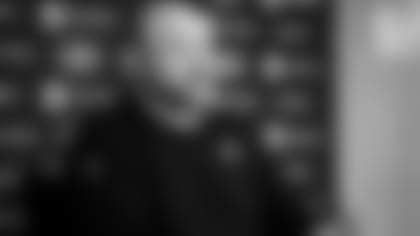 Before the Jets pulled the trigger and traded QB Sam Darnold to Carolina on Monday, GM Joe Douglas said that he and his staff "went down a lot of different rabbit holes" as they considered myriad options.
Now, instead of peering down that rabbit hole, the Jets are looking up at daylight, holding the No. 2 overall pick in this month's NFL Draft, 21 selections over the next two drafts, including seven picks in the first two rounds and two Round 1 picks this year and in 2022. This year alone, the Jets have 6 of the first 107 picks.
"I think we feel really good about this draft class," Douglas said during a Zoom call with reporters on Tuesday afternoon. "We obviously know there is an unknown factor when talking about rookies and young players. But with the amount of work put in by our scouts, we feel good about the type of person we're going to be able to bring in. I would say we're looking forward to [staff] meetings next week, talking about players, hammering out differences. I expect a lot of open, productive conversations and getting the right guys for us."
Douglas conceded that it is more than likely the Jets will select a quarterback with the No. 2 pick. He also admitted that there were discussions about retaining Darnold and still drafting a top rookie QB with the second pick. That possibility ultimately went by the wayside.
"This was an opportunity," Douglas said. "I feel really good about the draft and the quarterback class, specifically, this is an opportunity to hit the reset button financially so to speak."
By trading Darnold, the Jets clear additional 2021 cap space and get to reset the financial clock with an incoming rookie QB, possibly through the 2024 season.
With Jacksonville expected to take Clemson's Trevor Lawrence with the No. 1 pick, at No. 2 the Jets will have their choice from among Zach Wilson of BYU, Justin Fields of Ohio State, Trey Lance of North Dakota State and Mac Jones of Alabama. Douglas, HC Robert Saleh and offensive coordinator Mike LaFleur were all in Utah recently to watch Wilson's Pro Day.
"It was good being out there at Pro Day, to speak to his representatives and say hello to members of his [Wilson's] family," Douglas said. "They [BYU] put on a great Pro Day for the entire NFL, it's a first-class organization. It was a good day out there. I'm excited about this class and quarterbacks. We have a lot of process left moving up to the draft."
Some have questioned the competition Wilson and Lance faced at the collegiate level, but Douglas had a different and unique take.
"I think you just grade the tape you have seen," he said. "Arguments can be made about strength of schedule, but that's not the player's decision. I've been around players from all levels that have been successful. We only had one all-star game this year. One of the cool things in the past has been being able to see small-school players line up against big-school players and see them compete. A Wisconsin-Whitewater player compete against a player from Alabama. I like to see how guys react. We only had that one game this year. What you try to do is evaluate a lot of the intangibles of players from smaller schools -- how they compete, their makeup, heart. Try to focus in on why this is an inexact science."
With Darnold out of the picture, Douglas did say both James Morgan, a rookie last season, and Mike White are thought of highly by the organization. He could look to add a veteran presence in the weeks and months ahead as the two QBs on the roster have never thrown a pass in an NFL game.
Douglas said that using the No. 2 pick on a QB and retaining Darnold was mulled over and would have been a more viable option had the Jets been slotted to pick later in the first round. "Where we are in the draft at No. 2 overall, we decided taking a quarterback at No. 2 and keeping Sam would not be the best decision for the organization."
Finally, asked if the Jets plan to select a quarterback at No. 2 overall, Douglas said: "That's a fair assessment."