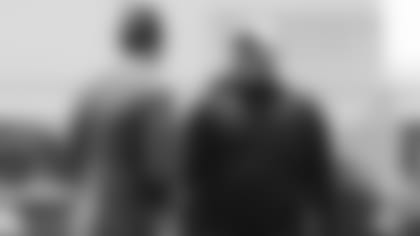 Before we "move" on from the 2020 NFL Draft, we want to revisit one final element of Joe Douglas' first draft as the Jets general manager. One question about how he would conduct this virtual selection meeting could be summed up succinctly: Would Joe D be a "move" GM?
Douglas gave a predraft hint that yes, he and his staff strategized on when the Jets might either move up or move down in the draft.
"Those would include who would we move up for at 11 but who do we move back for? What would we do?" he said. "So we're going through all those different scenarios, especially when it comes to 11 and 48 and who we think is going to be there. Obviously there's a lot of meat left on the bone when it comes from pick 1 to 47, so it could go a number of ways."
In review, the Jets obviously didn't stray from 11, which is where they selected T Mekhi Becton. But Douglas made three trades on Days 2-3, and the first involved moving down from 48. In a trade with Seattle, the Jets acquired Nos. 59 — where they grabbed WR Denzel Mims — and No. 101, a Seahawks compensatory pick.
"When we were getting closer to 48, we had a strong group of players, not only wide receivers, but other positions" on their board, he explained of his thinking at the time. "Moving back to 59, you may lose a few but there were still going to be enough players that you're excited about. So we felt that it wasn't too far to move back and wait a little bit and get it done with John [GM John Schneider] in Seattle."
The 101st pick was a key to this deal, but Douglas used it not to pick a player at the end of Round 3 but to make another trade, this one with the Jets' rare trading partners, the Patriots, in another rarity, a 3-for-1 deal, the Jets getting Nos. 121 and 125 in the fourth round plus the return of their sixth-round pick, the one they sent to New England last September for WR Demaryius Thomas.
That's another wrinkle in the Douglas drafting/trading philosophy: no potential trading partner is off-limits. The Jets had no draft transactions with the Pats for almost 20 years before Douglas struck that deal for Thomas. They had no deals with the Giants since '83 until the Leonard Williams trade in October.
"I view it as just trying to do what's best for the New York Jets," Douglas said. "And if it happens to be working with the Patriots on a trade or working with the Seahawks on a trade, I mean, if it's something that we feel strongly that can help us moving forward, we'll do it."
On Saturday came the Green & White's third swap, sending No. 211 in Round 6 (from the Darron Lee-to-KC trade last May that Douglas didn't make, since he hadn't yet been hired) to Indianapolis for CB Quincy Wilson.
There are easy ways to measure Douglas' "move index" in this draft, but no easy way to compare it to moves of the past. We could say this: In terms of draft-day trades only, by giving up three picks and bringing back six picks/players (four picks in '20, one in '21 plus Wilson) in exchange, the 2020 draft had a plus-3 margin, which increased the Jets' draft haul from eight picks going in to 11 picks/players coming out.
Only once in Jets draft history have they picked up more than three players in a single set of draft-day trades. That was Bill Parcells' plus-7 tradedown opus in his first year at the helm in 1997 (four picks traded, 10 picks plus DT Ronnie Dixon acquired).
Of course, a plus number doesn't reveal the quality of the bodies brought in. And a minus number in a tradeup is hopefully more than offset by the value acquired in the target pick. The Sam Darnold transaction with Indy a month before the '18 draft was a minus-3 (four picks traded for the No. 3 overall choice) but the QB was worth the exchange.
Many media draft watchers remain eager to immediately assess the values of those trades for fans. But Douglas showed one more draft personality trait in response: Be my guest and grade away, but I won't pass judgment on what my team has just finished doing an hour before.
"The objective is to try to make this team better," he said. "I feel like we added a lot of quality football players, quality people. I think we're better after this weekend than we were before the draft started. Ultimately, it's impossible to grade a draft after it happens. We'll outsource that ... We feel good about where we are right now."