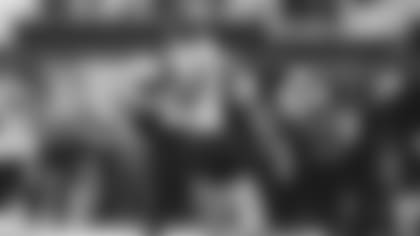 The Jets rookie class played a big role in the team nearly doubling its win total from 4 in 2021 from to 7 in 2022.
CB Sauce Gardner, the No. 4 overall pick, was named to the Pro Bowl while leading the NFL with 20 pass defenses. WR Garrett Wilson, selected six spots later, became the first Jets receiver since 2015 to reach 1,000 receiving yards and the first in franchise history to do so as a rookie. RB Breece Hall, the second-round pick out of Iowa State, was on pace for more than 1,600 scrimmage yards before an ACL injury ended his season in Week 7.
"A unique group," GM Joe Douglas said. "Rarely, in my time in the league has a has a group of young players come in and made the impact that these young men have had this year. Starting with Sauce, just consistently competitive, loves ball, wants to soak it up and know all the details. Highly instinctive and then that's before you even get to his ability.
"And then Garrett, 1,100 yards receiving, unbelievable route runner, great ball skills and is able to put up this kind of production with four different quarterbacks throwing the ball. Breece, obviously, one of the more explosive runners in the in the National Football League."
Jermaine Johnson, the final of the team's three first-round picks, and Micheal Clemons, the team's final selection (Round 4), each had 2.5 sacks and took more than 300 snaps. Each also blocked a punt -- one that resulted in a safety (Week 14 at Buffalo) and a touchdown (Week 6 at Green Bay).
"We have a really deep defensive line, but Jermaine, when he had his opportunities, did a lot of positive things. … Micheal Clemons was a was a huge part of our rotation and special teams. He plays with the exact kind of strain, effort and toughness that we're looking for. A unique draft class in a positive way. Excited for all these guys to hit the ground running in Year 2."
HC Robert Saleh added of Johnson: "I know he doesn't get much fanfare, but that son of a gun's going to be good. Really good."
Third-round TE Jeremy Ruckert was the rookie with the fewest numberleast amount of snaps. The Ohio State product took 46 snaps on offense in 9 games, 19 of which came in the finale at Miami. Saleh said that Ruckert's foot injury, which caused him to miss OTAs and essentially all of training camp, left him playing catch up for most of the season.
"I'm really excited about Jeremy," Saleh said. … "With the show team and our flight school at the end of practice, what you see is an uber-athletic young man. If he can put together a really good offseason, I think people will see a damn good tight end. Not just a good one, but a really, really good tight end. He's got a really good chance."
Douglas' class was debatably the most productive in the NFL this season, something DT Sheldon Rankins believes can strengthen the franchise long into the future. Rankins, who played with New Orleans from 2016-20, sees similarities in these Jets rookies to the 2017 Saints draft class that included four-time Pro Bowl CB Marshon Lattimore (No. 11 overall), first-team All-Pro RT Ryan Ramczyk (No. 32 overall), S Marcus Williams (Round 2), five-time Pro Bowl RB Alvin Kamara (Round 3), two-time Pro Bowl DL Trey Hendrickson (Round 3).
"The impact that they can have on a on an organization is just insurmountable," Rankins said. "I think when you look at where that class took us in New Orleans, the momentum they came in with, the energy that spearheaded everything we were trying to get accomplished, you see the same thing here. … It's going to be special for a long time and I think if you're a Jets fan and you're watching what this team has to offer, you're going to be extremely pleased with those guys and the guys that they continue to bring in to help this team have success for the next 10-to-15 years."