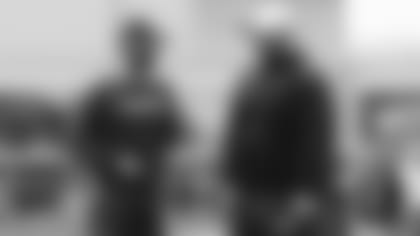 Joe Douglas didn't see the majority of the Jets' spring workouts, but the team's new general manager was impressed by the brief snapshot he witnessed when the team went through its final OTA sessions.
"Having only been here for one week of OTAs, the competition level was extremely high," said Douglas, who was introduced as the Jets' GM on June 11th. "Then going back and watching the film of this year's mandatory camp and OTAs ⁠— the energy, the competitiveness that Adam (Gase), Gregg Williams, and Coach Boyer have brought, it's been unique. And having been in Philadelphia for most of their OTAs, I can tell you that the competition level here was as good, if not better than, what was going on at Philadelphia at the time that I left."
Douglas, the former Eagles vice president of player personnel who agreed to contract terms with the Green & White on June 7th, went to work on the roster immediately. Within days, he claimed cornerback Montrel Meander off waivers from the Oakland Raiders and signed another corner in Mark Myers.
"We're definitely going to be open to improving this roster through free agency, trades, waiver wire acquisitions. I mentioned in my press conference that right now we have the number three position in the waiver order, so when a team cuts a player, there are only two teams in front of us that can claim a guy before we can," he said. "We've used it already and we're going to continue to use that throughout the preseason. There are a lot of avenues where we can upgrade this team, especially as the season goes."
Douglas bolstered his staff in June with the hirings of Rex Hogan as assistant general manager, Chad Alexander as director of player personnel and Phil Savage as senior personnel advisor. He also promoted Greg Nejmeh to director of pro personnel, Dan Zbojovsky to director of personnel operations and Kevin Murphy to assistant director of pro scouting, and added Chris Nolan to the staff as a college scout.
"We've been fortunate enough to make some key hires and really solidify our personnel department and really feel good about where we are," he said.
Douglas will work hand in hand with Gase as the Jets attempt to build a winner. They established the foundation for their relationship in Chicago in 2015 when Douglas served as director of college scouting and Gase was the Bears offensive coordinator.
"I do think we share the same philosophies on what it takes to be successful. I also think us getting on board with the players as well, I mean, this is a partnership: communicating, being transparent, and being open and honest with each one of our players," he said. "Those are the things you can expect from me and Adam. We're always going to be honest with each other, we're always going to communicate well, and we're not going to be afraid to have tough conversations if we disagree."
The Jets' recent revampment included the front office, the coaching staff and the personnel. In two weeks, the team's preseason slate will commence when the Jets battle the Giants at MetLife Stadium. Then exactly a month later, the Green & White will host the Buffalo Bills in the regular-season opener.
"The challenge for this team is you've got a lot of new people in a new environment with a new head coach and a new GM," Douglas said. "We have newly added players and probably two of the best players at their respective positions in C.J. Mosley and Le'Veon Bell, so just getting acclimated and getting together and getting on the same page will probably be the biggest challenge that we'll face in training camp."
The 43-year-old Douglas, who entered the NFL working in the Ravens' personnel department in 2000, has three Super Bowl rings on his resume. He knows what a championship team looks like and he is clear about the vision.
"I really put emphasis on the people, on the person, on the locker room and on the culture," he said. "And I feel like I've said it many times since arriving, but you win with people. That means good, high-character people, and not just personal character but football character and guys that love to compete and love to win."